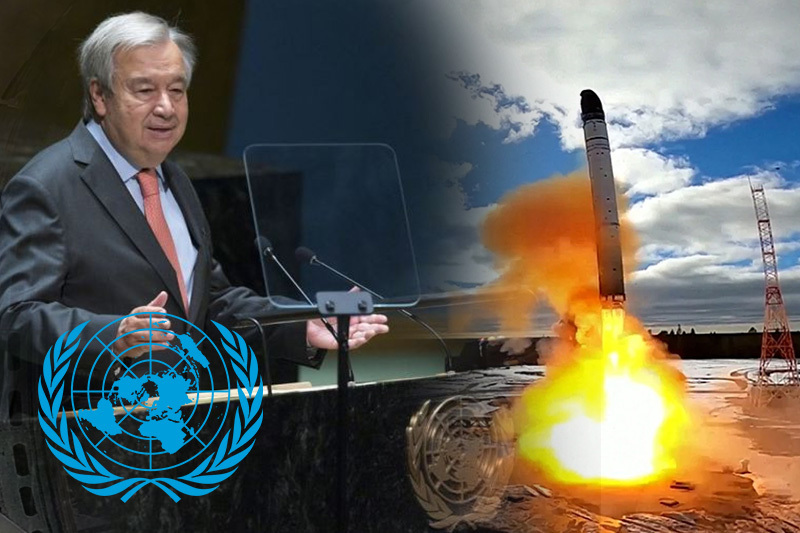 un chief warns world one step from nuclear annihilation
UN Chief warns world one step from "nuclear annihilation"
Speaking from New York at the Tenth Review Conference of the Parties to the Treaty on the Non-Proliferation of Nuclear Weapons, which runs through 26 August, United Nations Secretary General Antonio Guterres said that some governments are continuing to spend billions on nuclear weapons, all under the false bid of their security and peace. He added that under the present scenario when geopolitical tensions are at unprecedented levels, humanity is just one misunderstanding away from "nuclear annihilation".
Mr. Guterres highlighted some of the current challenges to global peace and security. He underlined that the world is under huge stress due to the climate crisis, inequalities, conflicts and human rights violations, and also the expansive devastation caused by the Covid-19 pandemic.
Time to disarm the weapons and step towards unity
The UN chief said that this meeting is taking place at a time when nuclear danger is at a record high not seen since Cold War. "Geopolitical tensions are reaching new highs. Competition is trumping co-operation and collaboration. Distrust has replaced dialogue and disunity has replaced disarmament. States are seeking false security in stockpiling and spending hundreds of billions of dollars on doomsday weapons that have no place on our planet," he said.
Related Posts
He mentioned that at present the world is having around 13,000 nuclear weapons. "All this at a time when the risks of proliferation are growing and guardrails to prevent escalation are weakening.   And when crises — with nuclear undertones — are festering, From the Middle East and the Korean Peninsula. To the invasion of Ukraine by Russia, and to many other factors around the world."
He said today, "humanity was just one misunderstanding, one miscalculation away from nuclear annihilation."
The #NPTRevCon is underway at @UN Headquarters. At the Conference opening, @UN Secretary-General @antonioguterres called on #NPT States parties to put humanity on a new path towards a world free of nuclear weapons. Full statement▶️https://t.co/KQ6sGL0mdY.#NPT2022 #10RevCon pic.twitter.com/vzSxaWkkz1

— ODA (@UN_Disarmament) August 1, 2022
Non-Proliferation treaty an urgency now
UN Secretary-General underlined that the non-proliferation treaty is needed "as much as ever" now. He added that the review meeting provides "an opportunity to put humanity on a new path towards a world free of nuclear weapons."
He stressed on importance of dialogue and transparency among nations while ensuring mutual respect and trust as foundation of a peaceful and secure world.
Mr. Guterres added that it is crucial to address "simmering tensions" in Asia and Middle East. "By adding the threat of nuclear weapons to enduring conflicts, these regions are edging towards catastrophe. We need to redouble our support for dialogue and negotiation to ease tensions and forge new bonds of trust in regions that have seen too little," he said signaling towards Iran's aggressive nuclear programme.