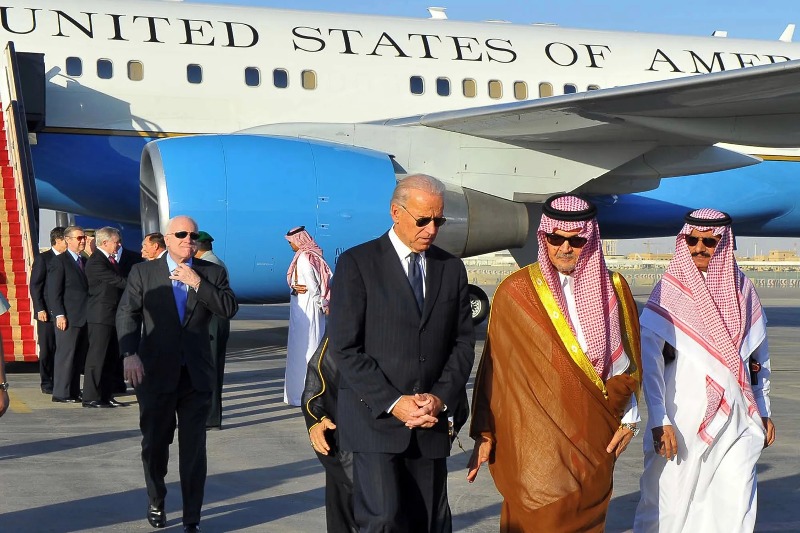 iran is closely watching bidens trip and heres why
Iran is closely watching Biden's trip and here's why
President Joe Biden is currently in the Middle East on a historic tour. On the list of countries he won't be going to is Iran.
Only Israel and Saudi Arabia are on President Biden's agenda. There is a growing convergence of Tehran's greatest regional adversaries, and they are closer than ever before.
Israel's announcement that it was engaging with regional partners on a US-led air defense cooperation was made just weeks before this visit. It is hoped that the program will "take another step forward" during Biden's visit, according to Israel's Defense Minister Benny Gantz.
Saudi Arabia has been putting pressure on the United States to provide security guarantees in the event of a breakdown in the nuclear negotiations with Iran. Doha discussions two weeks ago came to a halt when the United States claimed that Iran had brought extraneous demands to the table.
In the early hours of Friday morning, just hours before Biden was scheduled to arrive in the kingdom, Saudi Arabia opened its airspace to all aircraft, a step toward repairing relations with Iran's arch-enemy Israel. Israel's airlines have previously been prohibited from flying inside Saudi Arabia's airspace.
Israel and its Arab neighbors, including those that President Biden will meet with this week in Saudi Arabia, will benefit from an integrated air defense system proposed by US lawmakers last month. In order to safeguard such countries, the defense system has been put in place.
King Abdullah of Jordan, whom President Joe Biden will see in Saudi Arabia this week, stated earlier this month that he would like to join a "Middle East NATO" with other like-minded countries.
Iranian foreign ministry spokesman Nasser Kanani said on Saturday that Iran considers an Arab-Israeli military strategy a provocative step and a threat to its national security. The US, he said, was propagating "Iranophobia" among the countries in the region, according to reports from IRNA.
Speaking to reporters in Abu Dhabi on Friday, the United Arab Emirates reiterated its stance against joining any anti-Iran coalition.
In an interview with CNN's Becky Anderson, UAE presidential adviser Anwar Gargash said, "We are open to cooperation, but not cooperation targeted at any other country in the area, and I especially mention Iran." Additionally, he said that an ambassador from the United Arab Emirates is currently in the process of being sent to Tehran.
Iran may react against its neighbors, according to some observers.
Related Posts
Trita Parsi, vice-president of the Quincy Institute in Washington, DC, called an Arab-Israeli military alliance a "bad concept" because it "solidifies existing divisions in the region and decreases the probability of diplomatic breakthroughs." Rather than bringing about "real peace," these coalitions try to unite the region against a single state, according to Parsi.
Former US President George W. Bush claimed that previous US efforts to isolate Iran at the behest of Israel caused Tehran to sabotage the Israeli-Palestinian peace process in order to undermine American efforts. As he continued, "If Biden's anti-Iran alliance genuinely takes hold, it may compel Iran to return to its methods of the 1990s when it deliberately urged its partners to destabilize portions of the region."
Biden and Israeli Prime Minister Yair Lapid signed a new joint declaration on Iran's "destabilizing activities" on Thursday, which included a promise to never allow Iran to acquire a nuclear weapon.
Biden's visit "may exacerbate tensions," Mohammad Marandi, a professor at the University of Tehran, said in an interview with CNN.
However, the Gulf Arab states are leery of being entangled in the conflict between Iran and the United States.
According to Gargash on CNN, the situation with Iran must be de-escalated. It's imperative that we identify answers and make use of economic collaboration across diverse sectors, he said.
Using the term "regional NATO" to refer to a potential military alliance is "extremely provocative," according to UAE political science professor Abdulkhaleq Abdulla, who spoke to CNN.
Israel and the Gulf Arab governments have divergent views on how to deal with Iran, despite regional agreement that the country is now more destabilizing than ever, he told CNN.
Abu Dhabi and Riyadh are more inclined to engage Iran rather than provoking it, he explained. There is a significant difference between Saudi Arabia and the United Arab Emirates and Israel on this issue.
According to a senior research researcher at the London-based Royal United Services Institute, the accusation by the US this week that Iran may be delivering drones to Russia may be exploited by the Biden administration to reinforce the argument for a Middle East defense treaty against Iran (RUSI).
"The timing of this information [on Iranian drone sales] is intriguing," she said on CNN's Becky Anderson on Tuesday. "We know that the United States and Israel are negotiating a defense treaty, and I believe that a major focus of this pact is on the countries' drone capabilities."
Another concern is whether GCC countries (members of the Gulf Cooperation Council) are of interest, he explained.
A lot of Israeli propaganda is used to advertise and promote such an agreement, according to Abdullah. "It's not a simple task," he says.