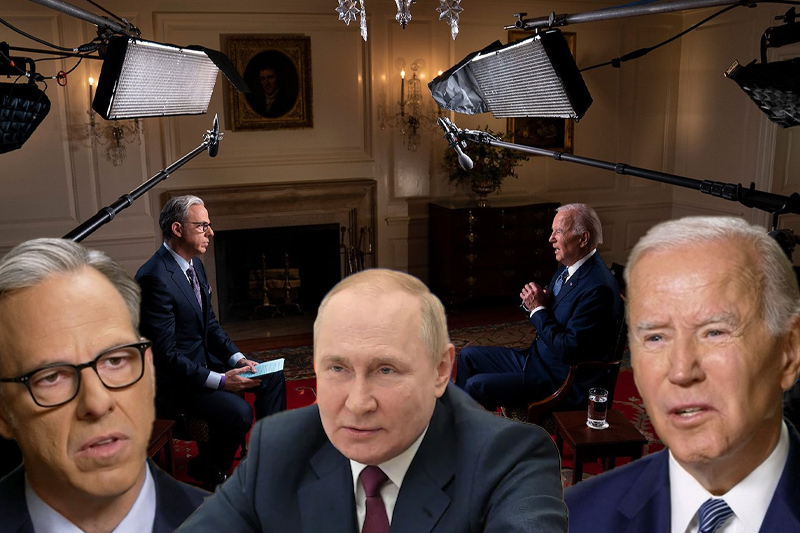 bidens cnn interview a stern nuclear message to putin
Biden's CNN interview: a stern nuclear message to Putin
United States President Joe Biden has been quite vocal about his disapproval and criticism over the military action by Russia's President Vladimir Putin in Ukraine, especially his latest comments on "danger of Armageddon". On Tuesday, President Biden has cleverly tapped the opportunity to send another careful yet clear message to Putin in the CNN interview. Biden has sent a chilling message to his Russian counterpart about the disastrous consequences of using nuclear weapons in the ongoing war in Ukraine, a possibility that Putin has indicated of.
During the CNN interview, Jake Tapper asked President Biden if he thought that President Vladimir Putin "might consider detonating one of the world's most heinous weapons as an act of desperation in a losing war". President Biden replied to this: "I don't think he will." But Biden used the on-camera interview as the perfect landscape to issue a public warning. "What I am talking about, I am talking to Putin. He, in fact, cannot continue with impunity to talk about the use of a tactical nuclear weapon as if that's a rational thing to do," President Biden said.
Keep Reading
"The mistakes get made, the miscalculation could occur, no one could be sure what would happen and it could end in Armageddon," he said, re-stressing that a nuclear attack that can kill thousands of people could lead to events going way out of control in response.
President Biden tries to create a narrative around factor of deterrence in use of nuclear arsenal. US and Russia do not engage in nuclear war as in the case of nuclear conflict the damage would be huge on both sides, hence the deterrence in use of nuclear arsenal between US and Russia. But this does not apply in case of conflict in Ukraine as the country does not have any nuclear weaponry. This means that if Russia uses its nuclear arsenal, the damage would be on the other side. Could this mean that Washington would be responding to Moscow in the line of nuclear use? This might be the exact chain of events that Biden is trying to put in Putin's mind – a warning that Moscow must be ready for a reciprocation.