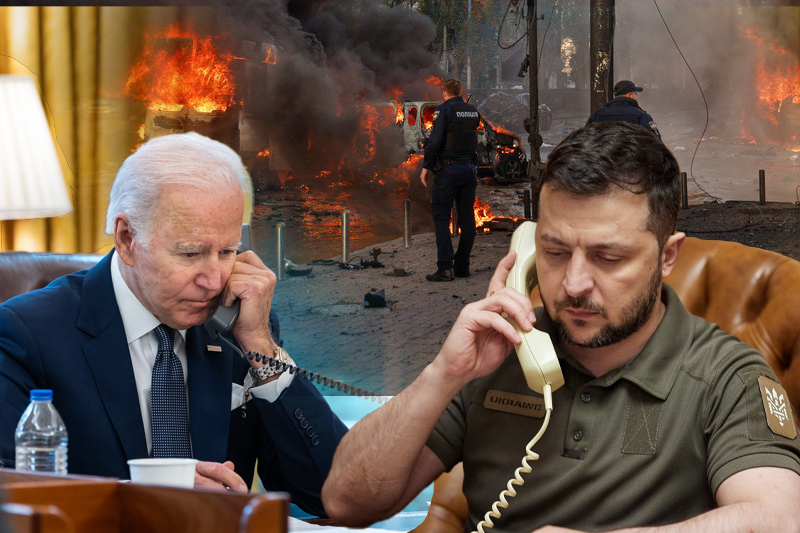 russian missile attacks prompt biden to extend advanced air defense systems to ukraine
Russian missile attacks prompt Biden to extend advanced air defense systems to Ukraine
United States President Joe Biden on Monday spoke with Ukrainian President Volodymyr Zelensky after a series of Russian missiles targeted Ukrainian cities, allegedly in response to the attack on Crimea bridge. President Biden has condemned the Russian strikes and pledged continued alliance and security assistance by US, "including advanced air defense systems" to Ukraine.
According to a statement by White House, President Biden during the call "expressed his condemnation of Russia's missile strikes across Ukraine, including in Kyiv, and conveyed his condolences to the loved ones of those killed and injured in these senseless attacks. President Biden pledged to continue providing Ukraine with the support needed to defend itself, including advanced air defense systems."
Though clarification hasn't been provided by the White House on which specific air defense system would be provided to Kyiv by Washington, an early commitment by US hints at providing Ukraine with National Advanced Surface-to-Air Missile Systems or NASAMS, which would be capable of engaging Russian cruise missiles.
Keep Reading
The statement added that President Biden "also underscored his ongoing engagement with allies and partners to continue imposing costs on Russia, holding Russia accountable for its war crimes and atrocities, and providing Ukraine with security, economic, and humanitarian assistance."
Providing clarity on what defense systems have already been provided by US to Ukraine, a senior official of Biden administration said, "We have transferred more than 1,400 Stinger anti-air systems to Ukraine, as well as air surveillance and multi-mission radars. We enabled our Allies to transfer air defense systems of their own to Ukraine – including Slovakia's transfer of a critical S-300 system in April. And in August, President Biden announced a new assistance package for Ukraine that included orders for 8 new NASAMS—National Advanced Surface to Air Missile Systems. We will continue to provide Ukraine with what it needs to defend itself."
The missile strikes by Russian have been called by Putin as a response to Kyiv's "acts of terrorism" of explosion on the Kerch Bridge that links Russia to Crimea, on Saturday. In response, Russia launched a total of 84 cruise missiles against cities across Ukraine on Monday.