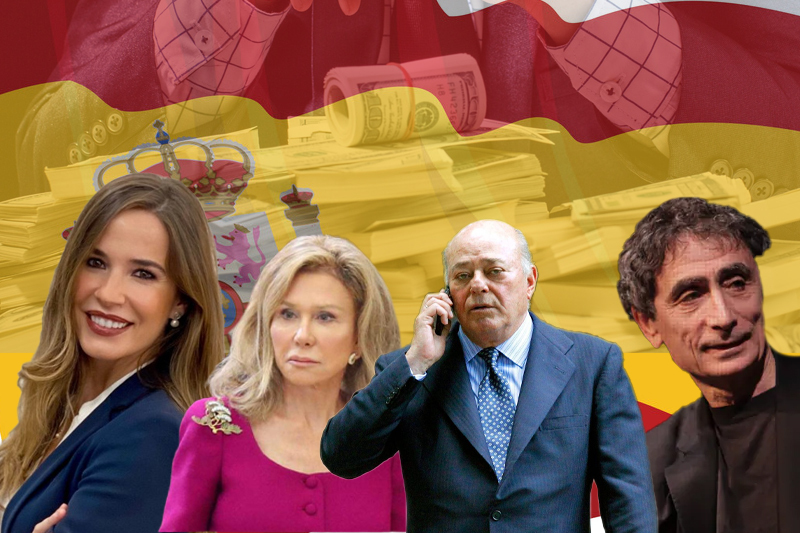 top 10 richest people in spain 2022
Top 10 Richest People in Spain 2023
The position of one's finances divides society everywhere in the world. While some people struggle to make ends meet on a daily basis, others are wealthy beyond what the majority of people can imagine. Higher-ups in the financial food chain have amassed their wealth in a variety of methods.
Others have climbed the corporate ladder to the top of their respective fields, while some have launched their own enterprises from scratch. There are also those who have inherited wealth from their families. Who are the wealthiest individuals in Spain, and how did they get their wealth?
Here are the top 10 richest people in Spain in 2023.
10. Maria Del Pino, $2.5 Billion
Maria Del Pino is the third richest Spanish woman with a net worth of $2.5 billion, ranking tenth in terms of wealth in Spain. She was the 1196th richest woman in the world in 2020, however she is currently merely the 1238th richest woman in the globe.
Del Pino acquired a 9% share in Ferrovial S.A., the 1952-founded business of her late father, by inheritance. In addition to managing roads and airports like London's Heathrow Airport, the firm develops, builds, finances, operates, and maintains urban services. Rafael Del Pino, the CEO of the business, is Del Pino's brother.
On the Madrid Stock Exchange, Ferrovial trades. In 2006, Maria Del Pino was admitted to the board. Del Pino not only works for the business but also serves as chairman of the Fundacion Del Pino, the family's philanthropic organisation. She has three kids and is married.
9. Isak Andic & Family, $2.6 Billion
Isak Andic was born in Istanbul, Turkey, despite the fact that he is Spanish, but his family moved to Barcelona, Spain, when he was a little child. In his teen years, Andic and his brother Nahman began selling clogs and T-shirts with hand embroidery.
Andic established stores in Barcelona and Madrid alongside his brother. They started by selling their own brand of jeans before starting to sell others. They changed the names of the stores to Mango when fellow businessman Enric Cusi joined the group. The name was chosen since the fruit has a single name across all languages. Mango presently has 2,400 outlets spread over 107 nations.
8. Alicia Koplowitz, $2.7 Billion
Alicia Koplowitz is the second-richest Spanish woman, the eighth-richest person in Spain, and the 1163rd-richest person overall. Prior to 2018, when she was in the 822nd spot, she was placed higher on the Forbes billionaires list. She now has a net worth of $2.7 billion, down from $2.8 billion last year.
In the 1960s, Koplowitz inherited a part in her father's construction business and grew rich as a result. The Foemnto de Construcciones y Contratas construction company was established by her father. But Koplowitz gave her sister her share of the business in 1997 for $800 million.
7. Juan Abello, $2.9 Billion
Juan Abello, who has a net worth of $2.9 billion and is only ranked 1053rd on the list of the world's richest individuals, is the sixth-richest Spaniard. Abello's wealth has been constant at $2.9 billion since 2020, while other billionaires on the list have had ups and downs recently. He is now ranked 1053rd in the world among billionaires. Juan Abello's father was a pharmacist, and he was born in Madrid in 1941. He pursued a PhD in pharmacy at the Complutense University of Madrid, following in his father's footsteps, and earned both degrees.
6. Juan Roig Alfonso $3.5 Billion
With a net worth of $3.5 billion, Juan Roig Alfonso ranks as the 825th richest person in the world and is the sixth richest Spaniard. He may also assert that he is Spain's wealthiest grocer. Since 2021, when he was valued at $4.4 billion, his net worth has decreased.
When Roig and three of his five brothers purchased his family's eight butcher businesses in Spain from their parents in 1981, they converted them into grocery stores. Roig had essentially bought out his brothers by 1991. Then he started creating the Mercadona grocery network, which is based on the principles of aggressive pricing and technology advancements.
5. Daniel Mate, $3.6 Billion
The fifth-richest individual in Spain is Daniel Mate, who has a net worth of $3.6 billion. However, the Forbes list of the world's richest billionaires places him as 822nd due to his wealth.
Mate holds two degrees from the University of Deusto, one in economics and one in law. In 1988, he started working for the commodities firm Marc Rich & Co., which eventually changed its name to Glencore. By the year 2000, Mate was sharing leadership of the business's commodity department for zinc, copper, and lead.
4. Miguel Fluxa Rossello, $3.6 Billion
In recent years, Miguel Fluxa Rosello's wealth has had some ups and downs. In 2018, when he had a net worth of $4.4 billion and was the 480th richest person in the world, he was at his wealthiest. His fortune decreased over the following two years, reaching its lowest point in 2020 when his net worth was only $2.2 billion. The businessman's current net worth is $3.6 billion, and in 2021 it increased to $1.6 billion.
As the third generation heir to a shoemaking company, Fluxa Rosello amassed money. But it was the travel and tourism sector that he rose to billionaire status. Group Iberostar, which comprises 100 resorts and hotels spread across 16 countries, is solely owned by him.
3. Rafael Del Pino y Calvo-Sotelo, $4.1 Billion
The late Rafael del Pino Moreno founded the infrastructure management and building company Ferrovial in 1952. Rafael del Pino y Calvo-Sotelo is his son. From 1992 to 1999, he served as Grupa Ferrovial's CEO before being named executive chairman. Rafael Del Pino y Calvo-Sotelo has accumulated his money through Ferrovial, and he currently owns about 20% of the business. He currently ranks as the 709th richest billionaire in the world with a net worth of $4.1 billion.
Also Read: Top 10 Richest People in New York and Their Net Worth
2. Sandra Ortega Mera, $5.8 Billion
Sandra Ortega Mera is the richest Spanish woman, the second richest person in Spain, and the 438th richest person in the world with a net worth of $5.8 billion. Over the past four years, Ortega's standing on the list of the wealthiest billionaires has steadily declined. The heiress' ranking on the Forbes billionaires list peaked in 2018, when she came in at number 237.
Her money is derived from the fashion business. Amancio Ortego and Rosalie Mera, her parents, established the apparel behemoth Inditex, best known for the Zara retail chain. Ortega received a 7% ownership interest in the business upon her mother's passing. Ortega resides in A Coruna, Spain, and is married to Pablo Gomez, with whom she has three children.
1. Amancio Ortego, $59 Billion
With a net worth of $59 billion, Amancio Ortego is the richest person in Spain. Despite being the richest person in Spain, Ortega's wealth, which once exceeded $70 billion, has considerably decreased in recent years. For three years in a row between 2018 and 2020, Ortego was sixth on the list of billionaires. Ortego is currently the third wealthiest person in Europe, however he is far from the top of the list of billionaires in terms of wealth. Elon Musk comes in at number one with a net worth of $219 billion, followed by Jeff Bezos at $171 billion and Bill Gates at $129 billion.