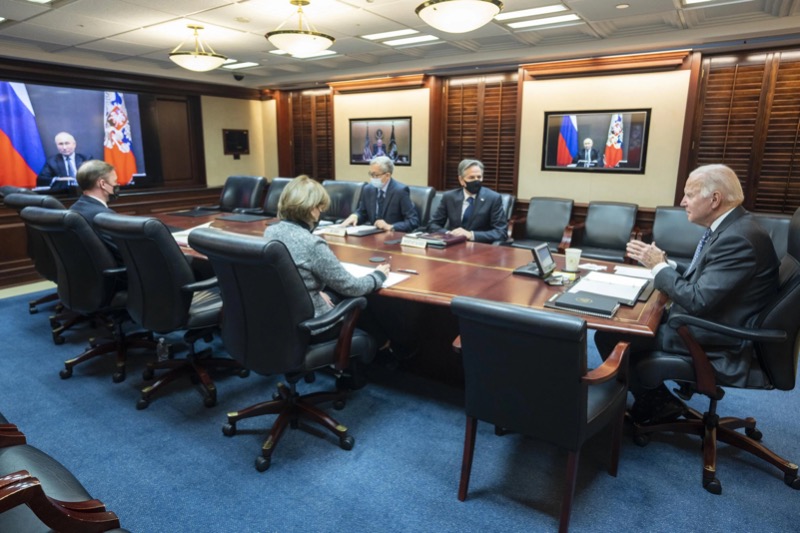 Biden officials doubt that Ukraine can regain all of its land
Biden officials doubt that Ukraine can regain all of its land
US officials have told CNN that the White House is losing faith in Ukraine's ability to retake all of the territory it has lost to Russia in the past four months of war, even with the heavy and more advanced weaponry the US and its allies plan to provide.
In light of the prospect that his country has shrunk permanently, advisers to President Joe Biden are arguing whether or not Ukrainian President Volodymyr Zelensky should change his definition of a "victory" in that country.
Despite the more bleak outlook, US officials made it clear to CNN that the country has no intention of pressuring Ukraine into making any formal territorial concessions to Russia as a means of ending this conflict quickly. This year's anticipated counteroffensive by the Ukrainian military could possibly result in a large retaking of land from the Russians.
According to a congressional staffer with knowledge of the discussions, a smaller Ukrainian state is not inevitable. That country's ability to retake these areas is directly tied to how much assistance the United States provides. Ukraine has requested a minimum of 48 multiple launch rocket systems from the United States, but has only received eight so far from the Pentagon, according to the country's official request.
While some in the administration are concerned, others feel that Ukrainian forces could once again surprise expectations, as they did in the early days of this conflict when they resisted the Russian push on the Ukrainian capital of Kyiv. Jake Sullivan, the National Security Adviser, and Gen. Mark Milley, the Chairman of the Joint Chiefs of Staff, discussed Ukraine's efforts to retake land on the phone last week, according to sources familiar with the conversation.
Related Posts
As Biden meets with US allies in Europe to rally leaders to stay committed to arming and supporting Ukraine during the harsh conflict, the growing pessimism comes as Biden tries to express strength along with optimism about the trajectory of the ongoing war.
"It's important that we stay close. As far as Putin is concerned, NATO and the G7 aren't going to disintegrate any time soon, and we won't either "Biden made the statement on Sunday while in the Bavarian Alps for the G7 summit.
Last Monday, the administration announced an extra $450 million in security support to Ukraine, including new rocket launchers, artillery ammunition, and patrol boats. A NASAMS, an enhanced surface-to-air missile defense system, is also anticipated to be announced by the United States this week. This month, Vice President Biden stated in an opinion piece that he is dedicated to helping Ukraine gain back the upper hand on the battlefield so that it can exert pressure on Russia in discussions.
In recent weeks, the tone has changed as Ukraine has been unable to withstand Russian advances in the Donbas and has lost as many as 100 men a day. Equipment and ammunition are being consumed by Ukrainian forces at a rate that is outpacing the West's ability to supply and train them on new NATO-standard weapons systems.
According to a US military officer and a source familiar with Western intelligence, it seems improbable that Ukraine would be able to recapture all of the area it lost to Russia during the conflict, especially this year. According to the sources, a significant counteroffensive may be conceivable with more weaponry and training, but Russia may also have another opportunity to replenish their army at that time, so there are no assurances.
Michael Kofman, a Russian military analyst at the Center for Naval Analyses, says that a lot depends on whether Ukraine can recapture land at least to the February 23 lines. "There is a possibility, but it's dependent. After then, it's probable Ukraine can handle the remainder. It may be necessary to rethink its strategy if it cannot."