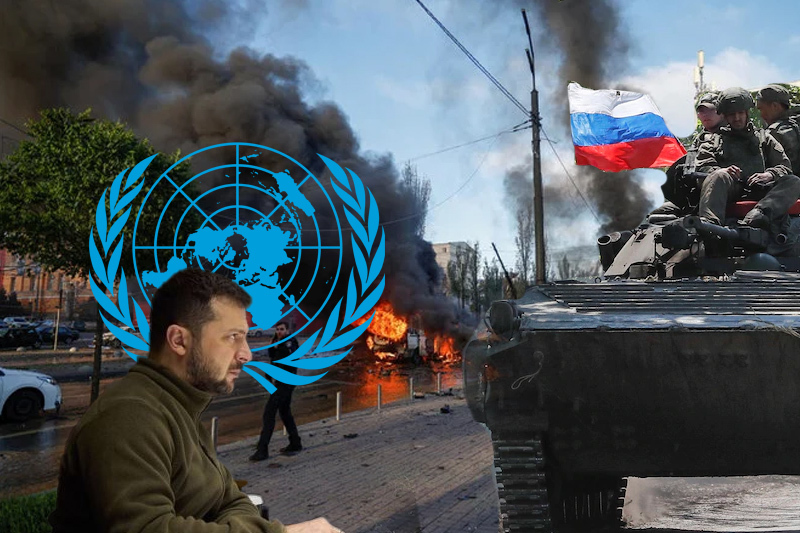 g7 slams putin for russian strikes as zelensky appeals for aerial shield
G7 slams Putin for Russian strikes as Zelensky appeals for "aerial shield"
Ukrainian President Volodymyr Zelensky has appealed to G7 leaders for creating an aerial shield in order to prevent further Russian strikes which have severed Ukraine. "I'm asking you to reinforce the general effort for financial aid to create an aerial shield for Ukraine. Millions of people will be grateful to the G7 for such assistance," he said during a virtual meeting of the G7 nations – comprising of US, Germany, UK, France, Italy, Canada and Japan.
President Zelensky has also called for tougher sanctions against Russia citing continuing offensive by Kremlin but has rejected any talks with his Russian counterpart. After the G7 meeting, chaired by Germany, the leaders of the group reassured Zelensky that they are "undeterred and steadfast in our commitment to providing the support Ukraine needs to uphold its sovereignty and territorial integrity." They added that they will "continue to provide financial, humanitarian, military, diplomatic and legal support to Kyiv", and that they are committed to support Ukraine in "meeting its winter preparedness needs."
Keep Reading
The G7 leaders have condemned Russian strikes against Ukraine calling out "indiscriminate attacks on innocent civilian populations constitute a war crime" and have pledged to "hold President Putin and those responsible to account".
For the full G7 Leaders Statement see https://t.co/cxBaKDJ10W pic.twitter.com/eqX7noOz94

— G7 GER (@G7) October 11, 2022
The Ukrainian President has called air defence systems as his main priority and urged for air shield from the G7. It is to be noted that White House has promised more advanced air defence systems to Ukraine after a phone call between President Biden and President Zelensky. "In a phone call with Zelenskyy on Tuesday, President Joe Biden pledged to continue providing Ukraine with the support needed to defend itself, including advanced air defense systems," the White House said.
Ukraine's Foreign Minister Dmytro Kuleba has highlighted that Russia's main targets have been energy facilities. "These are war crimes planned well in advance and aimed at creating unbearable conditions for civilians — Russia's deliberate strategy since months," he wrote on Twitter.
Primary targets of Russian strikes are energy facilities. They've hit many yesterday and they hit the same and new ones today. These are war crimes planned well in advance and aimed at creating unbearable conditions for civilians — Russia's deliberate strategy since months.

— Dmytro Kuleba (@DmytroKuleba) October 11, 2022