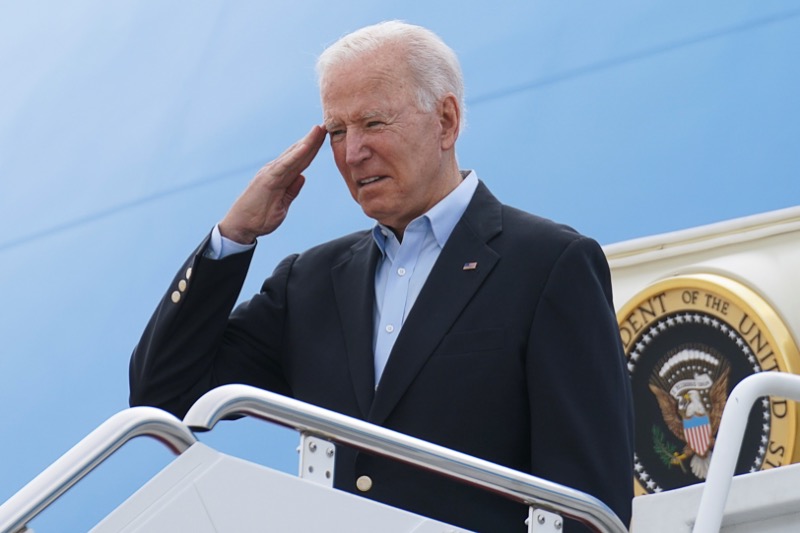 (c) Reuters
Biden visits Europe to keep allies united against Russia as Ukraine crisis rages
For a week, President Joe Biden will travel to Europe to attend a series of conferences, which will bring the Ukraine conflict back into the public eye as it hits its fifth month.
During his stops in Germany and Spain, President Biden plans to announce new sanctions and military aid with European allies. Ukrainian President Volodymyr Zelensky will speak at the Group of 7 and NATO meetings, where he is pleading to the United States and other countries for additional assistance.
However, there are also a number of problems that remain unanswered, including whether the Western reaction to the crisis can be sustained — in the face of a worldwide recession and mounting public outrage over rising petrol, food, and other commodity costs.
Many of the leaders, including President Biden, have been affected by the oncoming economic crisis. Even as the conflict in Ukraine appears to be escalating, there have been new discussions and some splits among allies over the best way to bring it to a close.
Related Posts
At the G7 and NATO summits, here are five things to keep an eye on:
Finding an endgame
To isolate Vladimir Putin, Western leaders formed a sanctions regime at the beginning of the conflict. However, months later, the question of how to end the conflict — and possibly stop the sanctions that contribute to inflation — has caused tension.
In his second visit to Ukraine in a week, British Prime Minister Boris Johnson has positioned himself as a major supporter of Zelensky and insisted that Ukraine "must win." In the meantime, French President Emmanuel Macron has warned against "humiliating Russia." With Olaf Scholz, the German Chancellor, he's kept open lines of communication with the Kremlin.
As a result, they have clashed with President Joe Biden, who has accused Vladimir Putin of genocide and war crimes while also declaring that he "cannot remain in power." After his own trip to Ukraine, Biden's defense secretary warned that Russia has to be "weakened." They claim that the unity Biden has worked so hard to establish is still there.
NATO's new members
NATO's Madrid meeting was formerly considered a possible, welcoming party for the alliance's new members. Turkey and its president, Recep Tayyip Erdogan, put up barriers to fast-tracking Sweden and Finland's applications to join.
It's frustrating that what could have been a strong message to Putin has been slowed down by Turkish demands.
Turkish President Erdogan has accused several countries of sheltering "terrorist" groups, claiming they pose a threat to the security of his country, particularly Kurds from Turkey and others. A US-based opposition leader, whom he blamed for the failed coup in 2016, has been accused of being behind the repatriation of some of the leader's supporters.
Officials in the United States remain optimistic that both countries' petitions will be approved. They also stated that Biden would likely bring up the issue with officials from various nations, including Turkey, on the margins of the meetings. However, they voiced little faith that Erdogan's worries would be overcome by the end of the conference, scuttling hopes for a big greeting in Madrid.
A new focus: China
President Biden pushed for forceful language denouncing China's human rights violations to be included in the G7 summit's final communiqué at the Cornish coast in English last year. To prepare for this document, members of the Group engaged in sometimes intense discussions behind closed doors regarding their overall strategy toward China.
Since other European leaders do not share Biden's view of China as an existential threat, the matter can lead to tense discussions. President Biden has made it abundantly clear that he hopes to persuade other world leaders to be more assertive. And Russia's invasion of Ukraine has heightened President Biden's warnings about the dangers of autocracies vs. democracies.
As part of his revived push against China's dominance, President Biden intends to form a global infrastructure partnership aimed at helping countries with low and middle incomes.
Climate commitments
Countries in the G7 will also discuss their objective to cut fossil fuel use and take effective steps toward tackling the climate catastrophe. Nevertheless, the race to get off Russian natural gas in Europe and to lower fuel prices in the United States has put these countries' climate pledges in jeopardy.
European countries, especially Germany and the United Kingdom, are returning to coal to make up for the gas they lost when Russia invaded Ukraine, and the EU hailed a sped-up renewable energy transition. African gas reserves are also an option for German consumers.