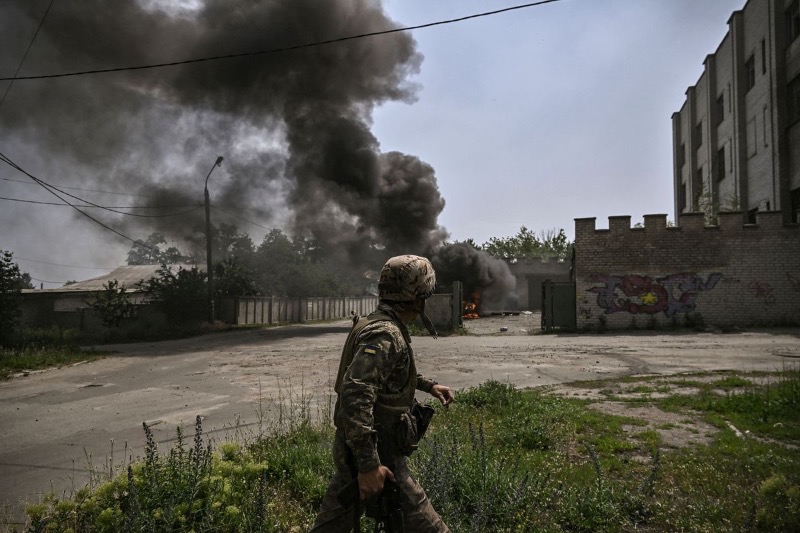 (c) Bloomberg
As the war hits five months, Russian missiles strike Ukraine
Russian artillery and air attacks pummeled the twin cities of Severodonetsk and Lysychansk in the eastern Luhansk area on Friday, slamming into a chemical plant wherein hundreds of residents were trapped, a Ukrainian official said on Saturday.
As the most prominent European ground confrontation since World War Two began its fifth month, Russian missiles rained down on Ukraine, hitting military facilities in the west and north as well as a southern city.
With little left to fight for after weeks of intense fighting, Ukraine has been ordered to withdraw from Sievierodonetsk, marking its most significant turning point since losing Mariupol earlier this May.
Tens of thousands of Russian forces have crossed the Ukrainian border since Russian President Vladimir Putin, put the troops there four months ago. This set off a conflict that has killed thousands and displaced millions while also disrupting the global economy.
"48 cruise missiles. At night. All over Ukraine," Ukrainian presidential adviser Mykhailo Podolyak said on Twitter. "Russia is still trying to intimidate Ukraine, spread panic, and scare people," he added.
Related Posts
The latest Russian advances appeared to move Moscow closer to capturing full control of Luhansk, one of Putin's priorities, and to clear the way for Lysychansk to become the next primary target.
Only Russia recognizes the separatist People's Republic of Luhansk, but its interior minister, Vitaly Kiselev, told Russia's TASS news agency that it would take another week and a half to establish full control of Lysychansk.
Serhiy Gaidai, the Luhansk area governor, reported that on Saturday Russian military stormed and attempted to blockade the Severodonetsk industrial zone.
"There was an air raid on Lysychansk. Severodonetsk was hit by artillery," Serhiy Gadai said using the Telegram messaging app. He added that Severodonetsk's Azot chemical facility, as well as the nearby communities of Synetsky and Pavlograd, were all shelled.
According to him, there were no injuries at the Azot factory, and Reuters was unable to verify this information immediately. However, according to Gaidai, 17 individuals were evacuated from Lysychansk on Friday by law enforcement personnel, rescuers, citizens, and other volunteers.
Since its February 24 invasion, Russia has had to retreat from the Ukrainian capital of Kyiv due to heavy resistance from Ukrainian fighters utilizing Western-supplied weapons. 
Moscow and its allies have since focussed their firepower on the south and the eastern region of Donbas, which includes Luhansk and Donetsk.