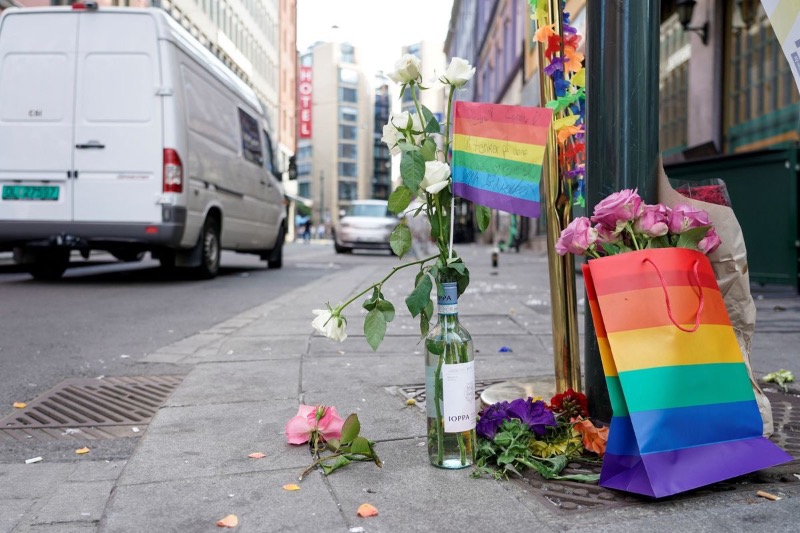 (c) Reuters
Man charged with 'terrorism' after bar attacks in Oslo, Norway
NORWAY — After late-night gunfire in central Oslo left two dead and dozens injured, police in Norway charged a man with "terrorism" on Saturday.
An LGBTQI+ march in Oslo set for Saturday has been canceled after the horrific attack on two pubs, including a gay club, on Friday night.
Two people were killed, and at least 21 others were hurt, including ten who are still in critical condition.
Police stated Saturday that the alleged assailant, a 42-year-old Norwegian of Iranian descent, has not yet been named.
Oslo police official Christian Hatlo stated at a press conference "He is suspected of homicide, attempted homicide, and terrorist act."
Because of the "number of wounded and murdered [and] the number of crime scenes—at least three," Hatlo stated police were deeming the attack an "act of terror".
"There are good reasons to believe that he had the intent to sow terror," Hatlo added.
According to local media, two people were killed in a shooting outside the Per på hjørnet pub around 1:00 a.m. local time (23:00 GMT).
The assailant then made his way to the London Pub, a nearby gay bar in downtown Oslo.
Related Posts
"There are reasons to believe that this is a hate crime," Hatlo pointed out, referring to the nature of the places which were targeted.
The police have asked organizers to cancel a planned march for the LGBTQI+ community on Saturday afternoon, and rainbow flags have been flown near the attack site as a show of support.
Pride organizers said on Facebook that "all events relating to Oslo Pride are canceled" following "clear information and recommendations from the police." They urged "everyone who had planned to join in or watch the march not to show up."
Hatlo told reporters that the suspect, whose identity has not been revealed, was already known to Norway's intelligence agencies.
After the first reports of the shooting, he was taken into custody five minutes later at 1:19 a.m. (23:19 GMT). Minor offenses like carrying a knife had previously been dealt with by the suspect's previous encounters with law enforcement.
According to Hatlo, the handgun and the automatic weapon used in the attack were "old," and police seized them from the site.
Authorities credit civilians with a "heroic contribution," saying they assisted in the arresting of the culprit and provided first assistance to others who were injured.
A witness described the sight to the Verdens Gang (VG) newspaper as "a scene of war" and said that there were "plenty of injured people on the ground" with "head injuries."
In order to prevent further occurrences, the Norwegian police have increased their presence in the capital.
It is currently believed that only one individual was responsible for the shooting, but "nothing can be said with certainty so early," says Tore Soldal, an inspector with the Oslo Police Department.
In a Facebook post, Prime Minister Jonas Gahr Støre called the shooting "cruel and deeply shocking."
"My thoughts go out to those affected and their relatives; we still don't know what was behind this horrible act, but to the homosexuals who are now scared and in grief, I want to say, we all stand with you," he added.
The police had advised them to "take care of each other" therefore organizer Kristin Haugsevje canceled the Oslo Pride March. "We are sending warm thoughts and love to next of kin, those who were wounded, and others affected. We will soon be proud and visible again, but today, we will share our Pride celebrations from home," she added.