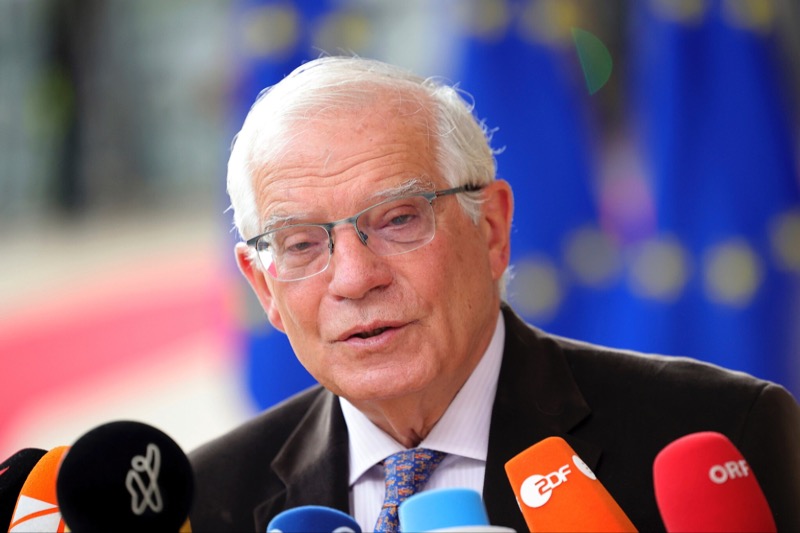 (c) The Times of Israel
EU's top diplomat visits Iran in an effort to restart nuclear negotiations
When Borrell landed in Tehran on Friday night, the goal was to restart talks that had been on hold for three months due to disagreements between the United States and Iran.
After arriving in Tehran on Saturday, EU foreign policy chief, Josep Borrell met Iran's top diplomat to discuss efforts to restore the 2015 Iran nuclear agreement
"Diplomacy is the only way to go back to full implementation of the deal and to reverse current tensions," Borrell tweeted. 
Foreign Minister Hossein Amir Abdollahian and other Iranian officials were set to meet with Borrell later in the day, according to the official Iranian news agency IRNA.
Since the Former US President, Donald Trump, abruptly withdrew from the agreement and began inflicting severe economic penalties on America's arch-nemesis in 2018, the Iran nuclear deal has been hanging on by a thread.
The current US government, led by President Joe Biden, is pushing for a return to the accord, arguing that it is the wisest course of action with respect to the Islamic Republic.
Related Posts
The US point man on Iran, Robert Malley, "reiterated firm US commitment to come back to the deal" at a meal with Borrell on the eve of his trip, according to the EU's coordinator for the talks Enrique Mora.
There are currently talks underway to bring the US back into the deal, including the easing of sanctions but also guaranteeing that Iran stays true to its nuclear commitments, which began in April last year.
"We remain committed to the path of meaningful diplomacy, in consultation with our European partners," Robert Malley later said on his official Twitter account.
The negotiations halted in March amid disputes between Tehran and Washington, mainly over a demand by Iran to remove its Islamic Revolutionary Guard Corps from a US terror list.
A French foreign ministry spokeswoman said on Friday, "We are ready to conclude this agreement and urge Iran to seize this diplomatic opportunity to conclude now, while this is still possible." 
According to Amir-Abdollahian, Iran is "serious" about establishing an arrangement.
"I hope we can reach the final point of the agreement in the near future with realism from the American side," he said, adding "the nuclear negotiations train has reached difficult stops as they near the end."
Iranian sanctions were eased in exchange for assurances that it would not be able to create an atomic weapon as part of the 2015 nuclear deal signed with six major powers — the United Kingdom, China, France, Germany, Russia, and the United States.
A nuclear arsenal is something Iran has consistently denied seeking.