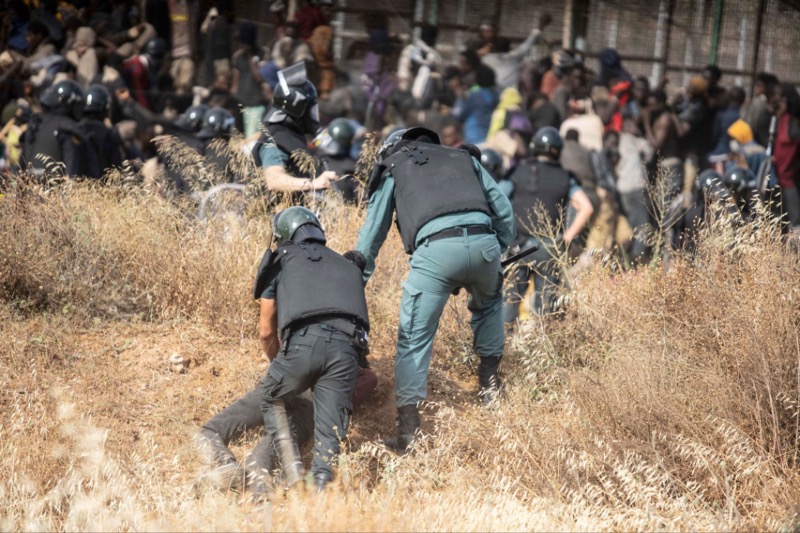 (c) The Telegraph
18 migrants are killed in an attempt to pass Moroccan border into Melilla
Attempts by migrants and police to cross the Moroccan border fence into the Spanish North African enclave of Melilla resulted in the deaths of 18 Africans and the injury of dozens of others on Friday, according to Moroccan authorities.
On Friday, 133 migrants crossed the border between Nador, Morocco, and Melilla, Spain, for the first time since Spain and Morocco re-established diplomatic ties. Melilla's Spanish government office stated that 2,000 people attempted to cross the border, but many were stopped by Spanish Civil Guard police and Moroccan authorities on both sides.
According to a statement from Morocco's Interior Ministry, the deaths were caused by people attempting to scale the iron fence. Five migrants were killed, 76 were injured, and 140 Moroccan security officers were hurt.
MAP, Morocco's official news agency, reported that 13 of the injured migrants eventually died in the hospital, bringing the death toll to 18. The Moroccan Human Rights Association said 27 people were killed, but it couldn't be confirmed immediately.
Injuries to 49 Civil Guards were reported by Spanish authorities. Migrants threw rocks at four police vehicles, causing them to break.
Related Posts
Those who had made it across safely were sent to a nearby immigration facility, where officials assessed their situation.
People fleeing poverty and violence often attempt to reach Melilla and the other Spanish territory on the North African coast, Ceuta, as a gateway to continental Europe. For decades, Spain has relied on Morocco to prohibit migrants from crossing the border.
More than 3,500 people attempted to scale the six-meter (20-foot) barrier that encircles Melilla on two separate days at the beginning of March, according to Spanish authorities. Nearly 1,000 made it across.
This was the first effort to cross the border since Spanish-Moroccan relations eased in March following a year-long disagreement over Morocco's 1976 annexation of Western Sahara, a former Spanish colony.
Last year, Morocco relaxed border controls near Ceuta, allowing tens of thousands of migrants to enter Spain. After Spain's decision to allow the leader of Western Sahara's pro-independence movement to be treated for COVID-19 at a Spanish hospital, the move was interpreted as a retaliatory measure.
Spanish support for Morocco's proposal for more autonomy for Western Sahara, whose activists demand full independence, helped ease relations between the two nations early this year.