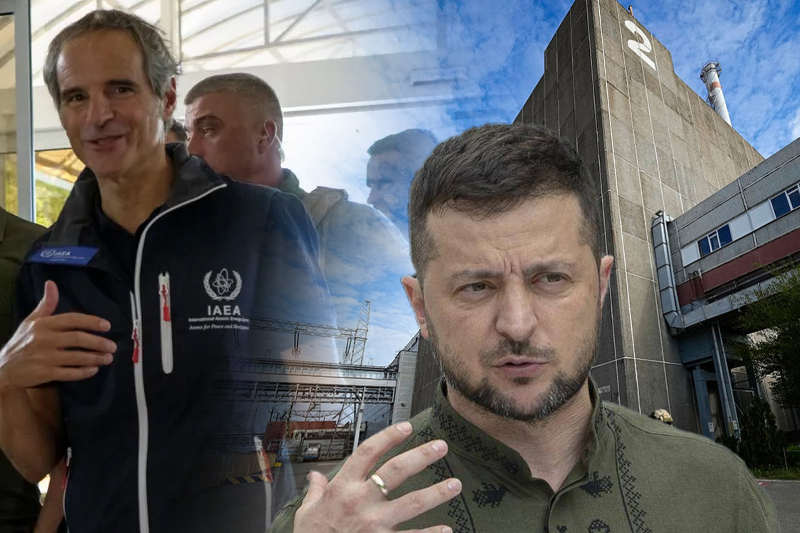 zelensky hits out at iaea over delay in calling for demilitarization of zaporizhzhia
Zelensky hits out at IAEA over delay in calling for demilitarization of Zaporizhzhia
The head of IAEA (International Atomic Energy Agency), Rafael Grossi, has said voicing his fears about "physical integrity" of the Zaporizhzhia nuclear power station in south-eastern Ukraine that has been "violated". Rafael Grossi led a team of IAEA inspectors to the Zaporizhzhia nuclear plant in Ukraine that has been occupied by Russian military, has been shelled in recent weeks, increasing fears of a nuclear incident.
"It is obvious that the plant and physical integrity of the plant has been violated several times," Grossi told reporters on Thursday. "I worried, I worry and I will continue to be worried about the plant," he said, adding that the situation was now "more predictable". "We have spent there four or five hours. I have seen a lot, and I have my people there, we were able to tour the whole site," Grossi said about the inspection.
But Ukraine's president Volodymyr Zelenskyy isn't too pleased as he has hit out over the IAEA visit to Europe's largest nuclear power plant. He's upset that the UN nuclear watchdog has not yet called for the demilitarization of the nuclear site that has been occupied by Russian troops since start of the Ukraine war. Zelensky has also called out Russia for obstructing free journalism at the site by refusing the media to accompany IAEA team of inspectors.
Keep Reading
"The key thing that should happen is the demilitarisation of the territory of the plant," said Zelenskyy. "This is exactly the goal of Ukrainian and international efforts. And it is bad that we have not yet heard the appropriate calls from the IAEA. Although we talked about it with Mr Grossi at our meeting in Kyiv. This was the key – the key! – security point of our agreements. It was clearly stated: demilitarisation and full control by Ukrainian nuclear specialists."
"When we met with (director general of the IAEA, Rafael) Grossi and members of the mission in Kyiv, we agreed that independent journalists […] would accompany the mission for the world to see the truth and what is really happening. Unfortunately, this has not been done, although it was promised. Unfortunately, the occupiers did not let journalists on the territory but organised a crowd of their propagandists. Unfortunately, the representatives of the IAEA did not protect the representatives of the independent media."
Meanwhile, Grossi has assured that the IAEA team would be staying back for full inspection of the plant to provide an elaborate and impartial assessment of the situation.