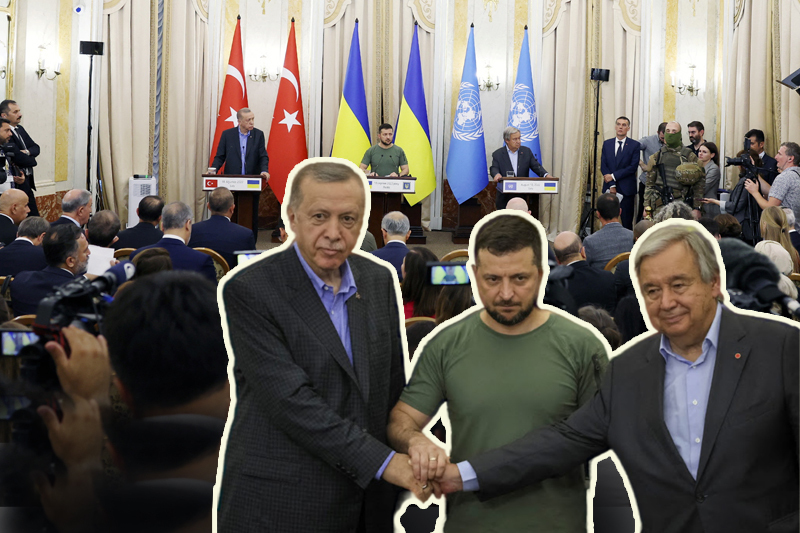 guterres erdogan meet zelensky in attempt to halt the conflict but little achieved
Guterres, Erdogan meet Zelensky in attempt to halt the conflict but little achieved
Turkey's President Recep Tayyip Erdogan and the UN chief Antonio Guterres met with Ukraine's President Volodymyr Zelenskyy in a high profile and high stakes meeting in Ukraine, in an attempt to curb the raging war and bring it to a halt after nearly six months of catastrophe. But reports claim that little was achieved through the meet.
It was confirmed by Turkish President Recep Tayyip Erdogan said that most of the discussions and measures have to be taken from Moscow. He expressed his hopes of some desired result to curb the raging war after his follow up with Russian president Vladimir Putin. This was the first time that Erdogan had visited war hit Ukraine, and second visit by United Nations Secretary General. The stakes were high for this meeting, with many hoping it would bring some unwavering results towards restoration of peace on Ukraine.
Erdogan wants the war to end at negotiating table
Turkey's leader Erdogan has emerged as a stable link between the warring sides, Russia and Ukraine. After enabling the Black Sea deal that has been a key step to fight rising global food crisis, Erdogan has seemingly established himself as the bridge that will stop the Ukraine war. The main reason evident is that Turkey's economy is reliant heavily on trade with Russia, Erdogan wants to stop the conflict through a middle course between the countries. He stressed that Turkey is "willing to act as a mediator and facilitator" and added, "I remain convinced that the war will end at the negotiating table."
One main agenda during meet in Lviv was Zaporizhzhia nuclear plant in southern Ukraine, where both Russia and Ukraine have exchanged blames of shelling. Zelensky has demanded Russian troops to leave the nuclear plant complex, accusing Moscow of global "nuclear blackmail", the notion also voiced by UN chief. "The area needs to be demilitarised, and we must tell it as it is: Any potential damage in Zaporizhzhia is suicide," Guterres said. Erdogan too expressed his concerns, "We don't want to experience another Chernobyl". Guterres and Zelensky have agreed over IAEA mission to the plant amid rising concerns over the vulnerable site.