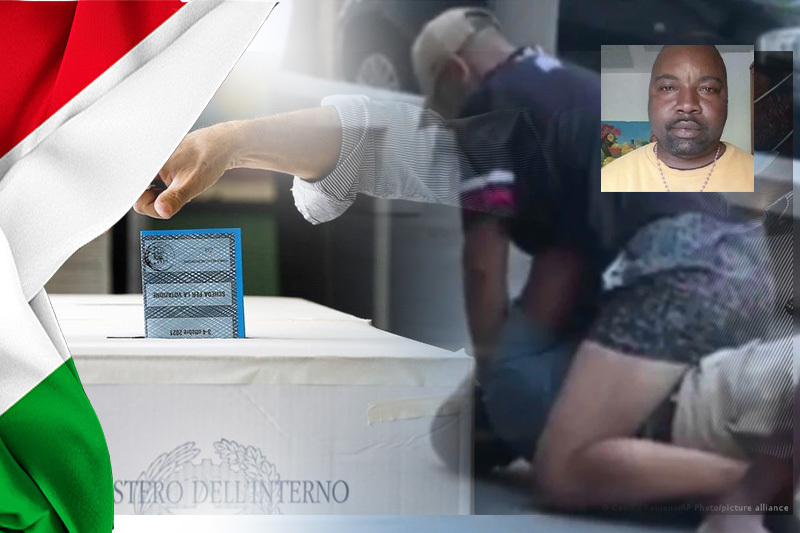 killing of nigerian vendor creates ruckus in polls ready italy
Killing of Nigerian vendor creates ruckus in polls-ready Italy
Alika Ogorchukwu, a 39 year old Nigerian migrant and ambulant salesman was killed in broad daylight in the Italian town of Civitanova Marche. Many passersby recorded the incident, but none intervened. Ogorchukwu had previously worked in Italy as a laborer, but after an accident he was having trouble walking and needed a crutch. He had, since then, turned to selling packs of tissues and cigarette lighters on the streets of Civitanova Marche.
Nigerian migrant killed with "bare hands"
The CCTV footage shows the assailant to be a white Italian man, who is now in police custody. The media reports that the assailant, 32-year-old Italian citizen, Filippo Ferlazzo, who stole Ogorchukwu's mobile phone, hit him several times, both with his fists and with the crutch he used to walk.
Macerata police officer Matteo Luconi told CNN on Monday that the killing "was not racially motivated". On Sunday, a police statement said that it was likely due to "petty reasons". The Nigerian embassy in Rome has condemned the killing, saying "the incident occurred on a busy street and infront of shocked onlookers, some of whom made videos of the attack, with little or no attempt to prevent it."
Related Posts
Political instrumentalization
Barbara Scaramucci, a former editor in chief of Italy's national broadcaster Rai, has accused political parties like League of instrumentalizing such cases and feelings to make political gains. The accusation has been also echoed by Alberto Losacco, regional Commissioner for Le Marche and a member of the center-left Democratic Party (PD).
Losacco reportedly said that the League is trying to use Ogorchukwu's death as a platform to stir more chaos. He added that this was a reminder that the party had repeatedly taken advantage of such incidents for political gain and that they "should stop feeding the rising climate of intolerance that was increasingly being felt across the country."
Elections in Italy
Italy preparing for September elections, migration is going to be a key agenda in the polls. Latest polls have projected Giorgia Meloni, the leader of right-wing Brothers of Italy party, for the top job. The German newspaper, Die Zeit, has recently predicted she could win as much as 22 per cent of the vote. Politicians have stormed in with sympathetic messages to Ogorchukwu's family, assuring security and safety will be top priority for all in Italy.