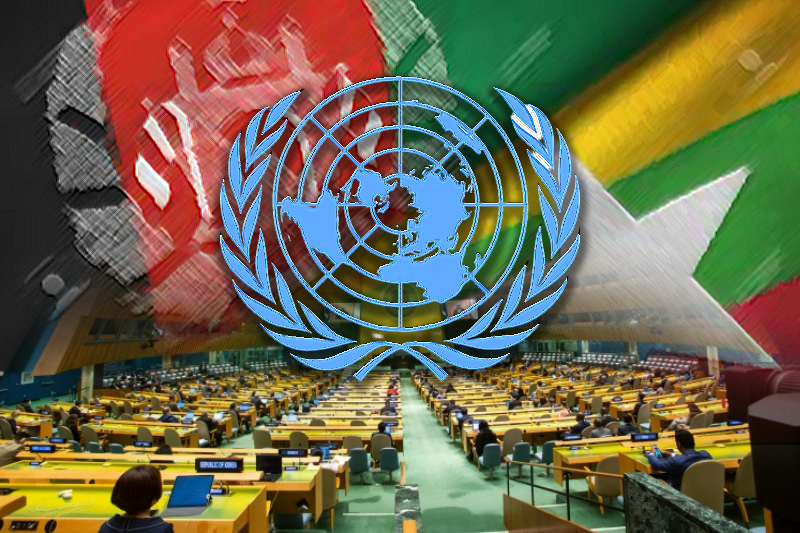 general assembly will not be addressed by afghanistan myanmar
General Assembly will not be addressed by Afghanistan & Myanmar
United Nations – According to the latest list of speakers for the last day of the General Debate of the 76th session of the UN General Assembly, Afghanistan and Myanmar are not listed as speakers to address the session.
It is confirmed that now both the controversial countries, Afghanistan and Myanmar will not address the UN General Assembly's high-level General Debate. A spokesperson for UN Secretary-General Antonio Guterres, Stephane Dujarric had said that as for now, the Afghanistan representative inscribed on the list for Monday is H.E. Mr. Ghulam M. Isaczai.
However, last week, the Taliban had written to UN Secretary-General Antonio Guterres nominating their spokesman Suhail Shaheen as Afghanistan's ambassador to the UN and had asked to participate in the high-level 76th session of the UN General Assembly.
Related Posts
Farhan Haq, the Deputy Spokesman for the Secretary-General, said that the letter also indicates that as of August 15, 2021, Mohammad Ashraf Ghani is ousted and no longer recognizes him as president.
Ghani, who had fled the country as the Taliban took control of Kabul on August 15, had appointed Ghulam Isaczai as Kabul's envoy to the UN in June 2021. The Taliban letter further indicates that the mission of the Permanent Representative is considered over and that Isaczai no longer represents Afghanistan.
For now, it is decided that the Credentials Committee will decide on who represents Kabul at the UN and the two communications have set the stage for a showdown over who sits at Afghanistan's seat in the 193-member world organization.