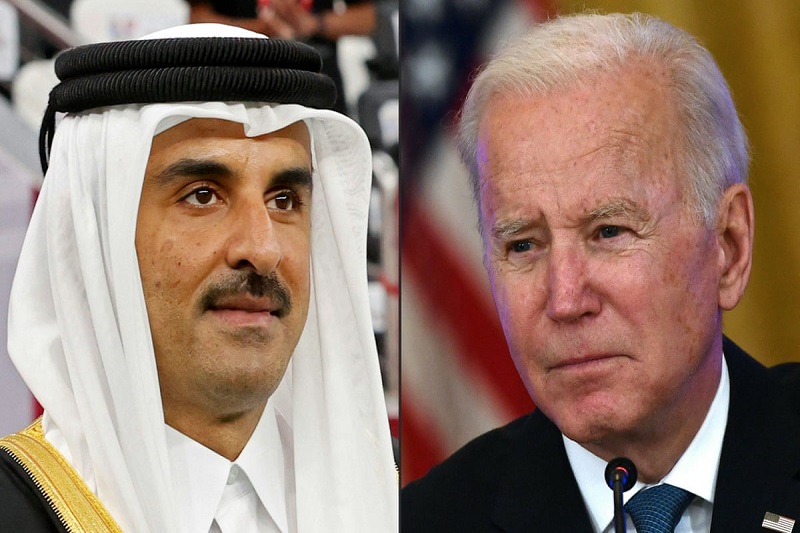 qatar might bail out gas lack europe if russia cuts off supplies
Qatar might bail out gas-lack Europe if Russia cuts off supplies
Qatar -Qatar is in talks with the Biden administration for coming to Europe's aid and supplying liquified natural gas in case Russia cuts off the gas supply to Europe amid rapidly escalating tension over possible Ukraine invasion. It is expected that the Emir of Qatar, Sheikh Tamim bin Hamad al-Thani will agree on the subject and tell the US President Joe Biden of his country going ahead with providing some temporary emergency gas to replace any shortages if Russia decides to nick supplies to Germany. It will be done by Qatar through excess gas transferring that is stored in east Asia.
With this Qatar is also hoping to return to the market in Europe on a much larger scale amid rising in its own production levels. At the same time, Qatar is seeking an end to a European Commission antitrust investigation. One source said, "It looks as if they will have something to announce next week. There have been talks going on for a fortnight or more. It would be painful for Qatar but doable."
Sources from the UK who are in talks with Qatar too believe that Doha can help Europe amid the looming energy crisis, despite Germany having no liquified gas import terminal. The majority of Doha's gas is currently sold in Asia on long-term contracts. Though gas supply by Qatar can help bail out Europe, the quantity wouldn't be on a scale comparable to that from Russia and replace the entire consumption in case Russia completely cuts off the supply. It is to be noted that Europe gets more than 40 percent of its natural gas from Russia and about one-third of the Russian gas makes its way into Europe through Ukraine.
Related Posts
"In the very immediate term, the focus is on how we can make sure that European countries have sufficient access to natural gas to get through the winter months, but also to alleviate pressures in the spring," said White House National Economic Council Director Brian Deese on Thursday. "And very specifically, what that means is working with our allies and partners, particularly gas producing countries to understand what additional capacity exists and how we could move and extend that capacity into the region."
A report from the Centre for American progress – a think tank that works closely with the Biden administration, warned this week, "In a fight over Ukraine, Russia would without a doubt be prepared to cut off gas supplies to Europe in winter. Furthermore, fighting in Ukraine could affect the flow of gas to Europe if pipelines are damaged or supplies are cut. Europe should therefore be taking immediate steps to prepare for a gas shortage this winter."