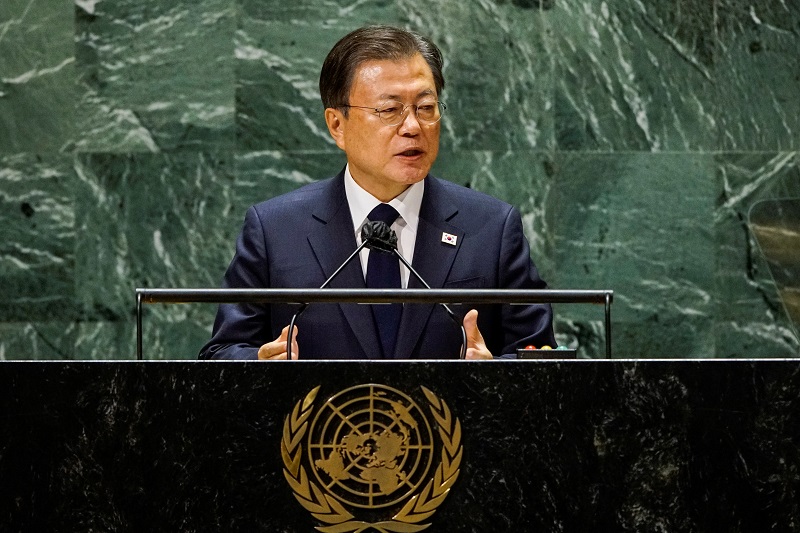 south korea's president moon jae in addresses 76th session of the u.n. general assembly in new york city
South Korean President Moon Jae-in calls for the end-of-the-war declaration
South Korea – In a speech at the UN General Assembly, South Korean President Moon Jae-in reiterated his calls for the end-of-the-war declaration. He said this could help to achieve denuclearization and lasting peace on the Korean Peninsula. Although, it is not the right time to start talks on ending the 1950-53 Korean War as Washington must first give up on its hostile policy towards Pyongyang.
Ri Thae Song, who is North Korea's deputy foreign minister, added that several decades after the conflict, the Korean Peninsula technically remains in a state of war as the truce achieved by the North and South back then never transformed into an actual peace treaty, while relations between the neighbors always remained strained.
The Korean War between China-backed Pyongyang and Seoul, which was supported by the US, had become one of the most destructive conflicts of the modern era. In last three years, it amounted for 5 million deaths on both sides, with around a half of them being civilians. The US had lost 40,000 troops in action in Korea, while over 100,000 were wounded.
Related Posts
It is believed by thought leaders and analysts that US withdrawal of its double-standards and hostile policy is the top priority in stabilizing the situation of the Korean peninsula and ensuring peace on it.
US President Joe Biden addressed the UN assembly and said the United States wants sustained diplomacy to resolve the crisis surrounding North Korea's nuclear and ballistic missile programs. Supporting the same argument even John Kirby, who is the spokesperson for U.S. Defense Department said that they are open to discussing the possibility of an end-of-war declaration.
Mark Lambert , who is the U.S. Deputy Assistant Secretary of State for Japan and Korea, acknowledged U.S. reluctance to issue such a declaration and asserted that their concern is that we not give a false narrative to the North, that in any way, shape, or form would jeopardize our troop presence in South Korea.