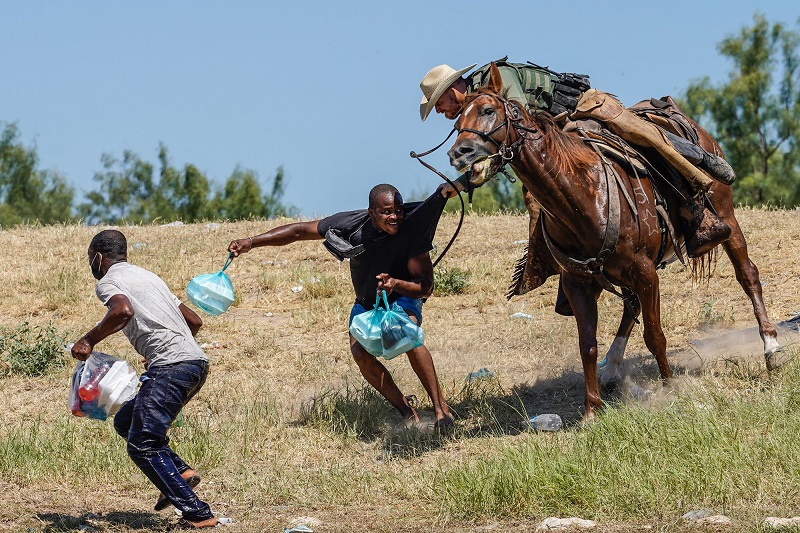 topshot us politics immigration texas
Inhumane Decision of Deporting Haitian Migrants Forces US envoy to Resign
–Haiti. Horrific and unbelievable pictures showing US officials at US-Mexico border, mounted on horses, closing in on the helpless Haitian migrants brings back memories of historical mistreatment of people of colour at the hands American self-sought white superiors. The grim comparison is consummate. As these photographs made rounds on social media, it brought to forefront the plight of Haitian migrants.
Last weekend, the United States of America began deportation flights from border town of Texas where about 13,000 migrants had grouped under a bridge. Since Sunday, US has deported 1401 Haitian migrants from the Del Rio camp in Texas town bordering Mexico, a move that has attracted protests. This has resulted in resignation by US special envoy for Haiti, Daniel Foote, just two months into the post. He called the act of deporting migrants to a country from which they were fleeing to escape earthquake and political flux, a "collapsed state". Foote wrote in his resignation letter that Haiti "simply cannot support the forced infusion of thousands of returned migrants lacking food, shelter, and money without additional, avoidable human tragedy."
Crisis in 'collapsed' Haiti
Year 2010 saw massive number of Haitians leaving the country following a devastating earthquake. This year has further escalated hardships of the country after assassination of President Jovenel Moise in July that brought Haiti to state of political instability, and another earthquake that struck in August.
Related Posts
Mr. Foote has accused US and other countries for interfering in country's politics, instead of providing it with much needed "immediate assistance". "What our Haitian friends really want, and need, is the opportunity to chart their own course, without international puppeteering and favoured candidates but with genuine support for that course," he said.
Foote's statements did not sit well with the State Department. Ned Price, spokesperson of US Department of State said, "It is unfortunate that, instead of participating in a solutions-oriented policy process, Special Envoy Foote has both resigned and mischaracterised the circumstances."
Implication of Foote's damning resignation
The angry resignation by the special envoy is a massive blow to the Biden administration that came into the office with promises of a more human and empathetic approach, as opposed to its predecessor Trump administration that had attracted global ridicule over child migrants separation policy. US State Department has called the resignation by Mr. Foote misleading. White House spokeswoman Jen Psaki responded in a press conference, "Special Envoy Foote had ample opportunity to raise concerns about immigration during his tenure. He never once did so."
The deputy secretary of state, Wendy Sherman has said that Foote had advocated for a military intervention to handle migrant crisis in the country that was rejected by Biden administration. "Quite frankly, some of those proposals were harmful to our commitment to the promotion of democracy in Haiti and to free and fair elections in Haiti so the Haitian people can choose their own future. For him to say that the proposals were ignored is, I'm sad to say, simply false," Sherman said. "And one of the ideas that Mr Foote had was to send US military back to Haiti. I have followed Haiti since the Clinton administration, and I can tell you that sending US military into Haiti is not the answer that will solve the terrible situation that the Haitian people are currently facing. It just was a bad idea."
Title 42
Public Health Law, Title 42, has been used by former President Donald Trump to carry out deportations and has continued under current President Joe Biden. According to Filippo Grandi, UN Refugee agency head, the use of Title 42 without assessing the potential perils that can be faced by deported migrants is a violation of international law.