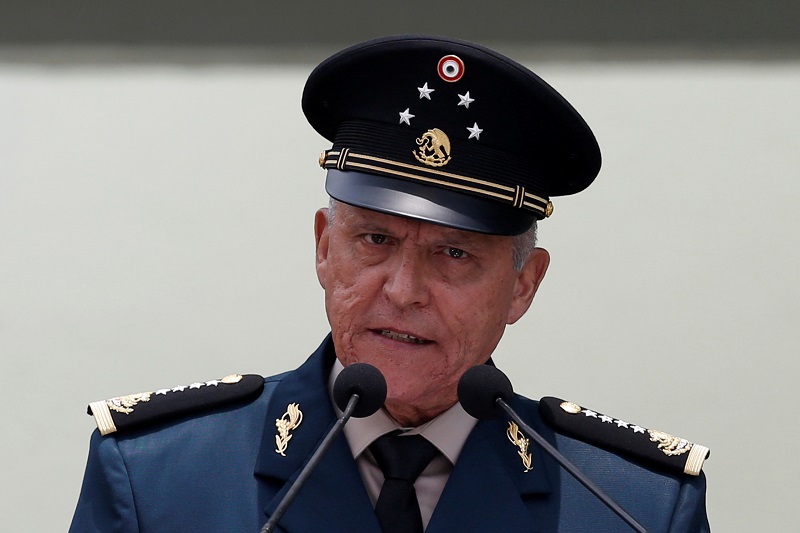 file photo: mexico's defense minister general salvador cienfuegos addresses the audience during the 50th anniversary of the plan of assistance to the population in case of disaster (plan dn iii e) in mexico city
U.S., Mexico to hold high-level security talks on Oct 8
Mexico– US and Mexican officials are set to hold high-level security talks on October 8, said Mexico's Foreign Minister Marcelo Ebrard.
Participants in the talks from the US are Secretary of State Antony Blinken, Homeland Security Secretary Alejandro Mayorkas, and Attorney General Merrick Garland. The talks are scheduled to be held in Mexico City.
"The primary agenda is a document of understanding on which we have been working together with the US. It focuses on setting priorities for security," he spoke to the reporters at a press conference in Mexico City.
Mexico has – as a part of an "assisted voluntary return" to Haiti – sent a group of 70 Haitian migrants on a plane to Port-au-Prince. The total count also includes 13 children.
In a statement on Wednesday, Mexico's foreign and interior ministries said that the flight was conducted as part of an agreement between the Haitian and Mexican authorities to manage a surge in the number of Haitian asylum seekers going via Mexico towards the United States.
Last weekend, about 13,000 would-be migrants grouped under a bridge linking Texas with Ciudad Acuña in Mexico.
Most of the migrants are fleeing poverty, natural disasters, and political turmoil – marking a treacherous walk through Latin America to reach the border.
Related Posts
The ministries added that the migrants were in Mexico City, the nearby State of Mexico, the states of Tabasco and Hidalgo.
Thousands of Haitian migrants are still at the US border, where officials have failed to provide them with sanitation and food.
While citizens of several countries are in the migrant camp in Del Rio – including Venezuelans, Cubans, and Dominicans – a large majority are from Haiti.
A significant number of the Haitians are those who fled after an earthquake struck the country in 2010 and undertook residence in Brazil and other South American states.