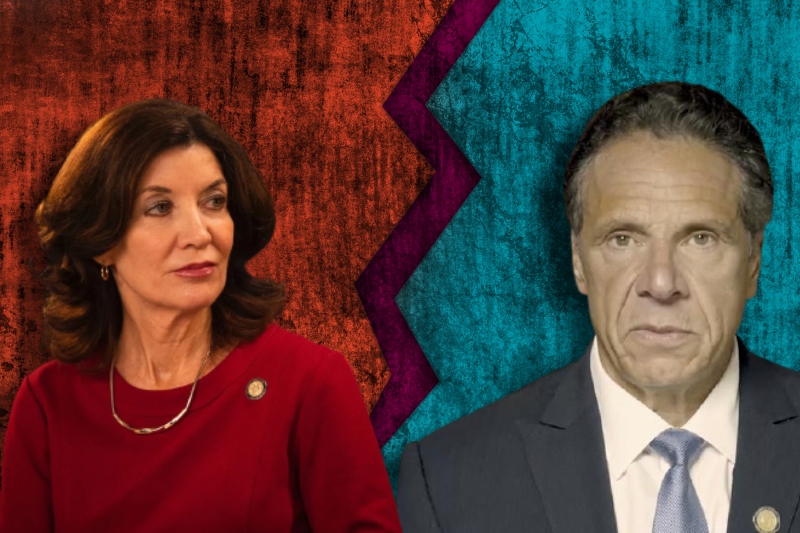 cuomo successor kathy hochul
Cuomo's successor Kathy Hochul dissociates herself from former NY Governor's scandals
On Wednesday, Lt. Governor of New York Kathy Hochul made her first public comments after Andrew Cuomo dramatically resigned as NY Governor a day before after report release of him having sexually harassed 11 women, impending a looming impeachment. Cuomo successor, a Buffalo native who is set to become New York's first female governor, said that she had not been aware of allegations mentioned in state Attorney General Letitia James' investigation. She further vowed of cleaning order in the executive chamber. "I'm going to stand right here at the end of my term, whenever it ends, no one will ever describe my administration as a toxic work environment," Hochul said.
Hochul, however a deputy to Cuomo since seven years, was not known to share a close relationship. While taking questions from Albany, Hochul appeared quite frustrated over Cuomo's decision of resigning two weeks late after allegations first appeared. Hochul has reportedly begun working on establishing her senior staff and is in contact with top New York officials, including Senate Majority Leader Chuck Schumer and Sen. Kirsten Gillibrand, and other regional governors.
Related Posts
Hochul said expressing her disagreement over the two week hiatus, "It's not what I asked for. However, I'm looking forward to a smooth transition, which (Cuomo) promised. He spoke to me about wanting to make sure that the transition to continuity is important."
Hochul stood protested on two questions. On being asked if she would pardon Cuomo, she said it is "far too premature to even have those conversations". Second was is she thought that impeachment proceedings against Cuomo should continue. "I've been in this business long enough to know that is not the purview of the New York state governor to dictate to the New York state Assembly or to the Judiciary Committee on what actions they should take next with respect to anything," Hochul said, "particularly impeachment."
Cuomo has stood defensive over all allegations and denied them. However, he admitted that some of his behaviour might have put others in an uncomfortable position.
Hochul is set to name her replacement as Lt. Gov. of New York before she herself takes office in 13 days.