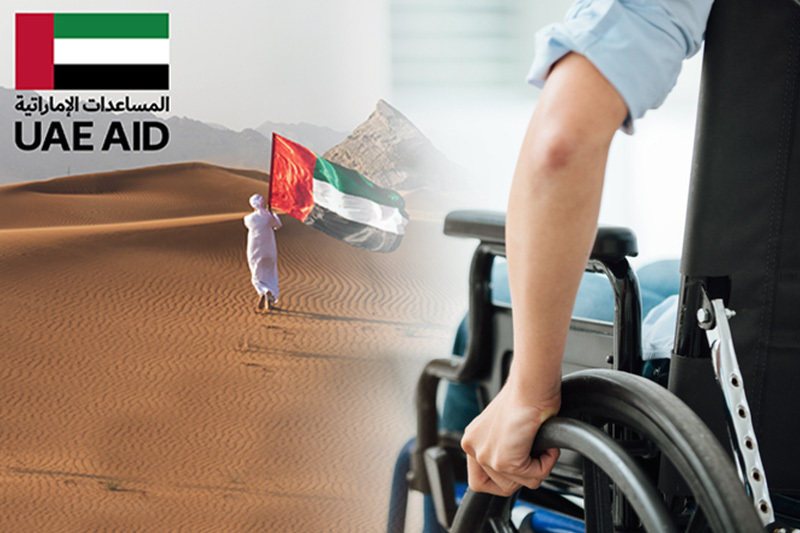 uae beacon of empathy helping over 30 million in middle east
UAE: Beacon of empathy helping over 30 million in Middle East
The current global situation is loaded with crises and catastrophes triggering difficult situation for people across the nations. United Arab Emirates, staying true to the vision of its founding fathers and leadership's guidance is continuing to lead the path of humanitarian aid. The country at present is aiding and supporting more than 30 million disabled people across the Middle East, reiterating its leadership's empathetic vision.
UAE daily newspaper, The National stated the World Bank's statistics that more than one billion people are living with disabilities across the world. This is about 15 per cent of the global population and is mainly focused in developing nations. "Securing the rights of disabled people must therefore be a priority for the Middle East, home to an estimated 30 million People of Determination, many of whom live in disadvantaged circumstances," noted The National in its Monday editorial.
Right to inclusion by UAE
The people in Dubai with disabilities now have right to inclusion in education and at workplaces, according to a law that was issued this year in January. Sheikh Mohammed bin Rashid, Vice President and Ruler of Dubai, issued the law that will ensure full participation of people with disabilities in all aspects of life.
Related Posts
Furthermore, Abu Dhabi hosted the Special Olympics in 2019, that was participated by over 7000 athletes. The event was successful and showed the spirit of inclusion and empathy instilled in the people and leadership of the UAE.
Other nations following the steps of UAE
The National had reported last week that Egypt too is taking steps towards inclusion of disabled people. A new public beach in Egypt's city of Alexandria now has taken measures to include visually impaired and blind people. "Free of charge, Al Mandara has a wheelchair-accessible path to the water, floating ropes for swimmers to hold on to, intensified lifeguard supervision and free whistles to attract attention," The National reported.
"Anywhere in the world, more presence in day-to-day life, be it work or leisure, is an important step in making the lives of disabled people easier. Doing so breaks boundaries, encourages solidarity and reminds able-bodied people of the importance and presence of a community that is sometimes not acknowledged enough," added the editorial by The National.
This is well highlighted by steps and measures taken by UAE, and also other Middle Eastern nations, to include disabled people and reiterate the fact that they are an integral part of the community. UAE's foundational principle of extending support and aid to everyone in need without discrimination is a hopeful beacon towards upliftment and progress of all people.