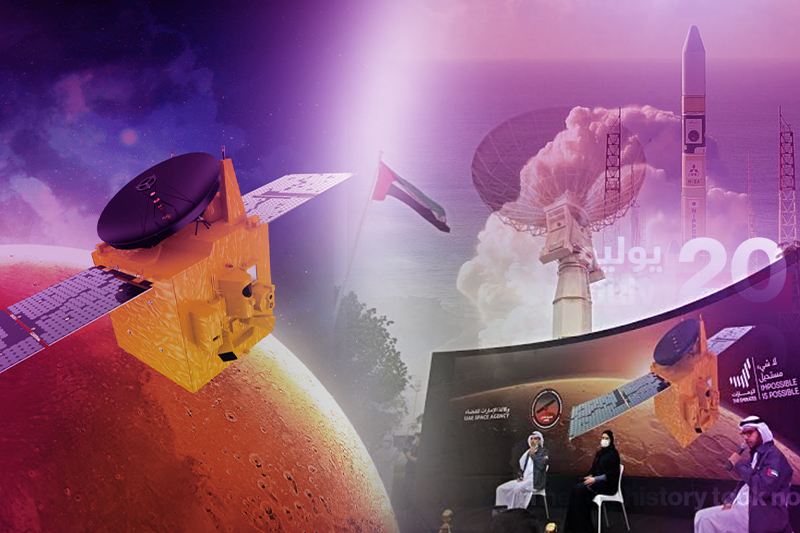 two years to hope probe and uaes journey achieving the space mission and beyond
Two years to Hope Probe and UAE's journey achieving the space mission, and beyond
It has been two years to Hope Probe – Arab world's first interplanetary mission and first step to United Arab Emirates' Mars Mission – being launched successfully aboard an H2A202 rocket from Japan's Tanegashima Space Centre. It travelled over 490 million kilometres from Earth over seven months before successfully arriving in Mars orbit on February 9, 2021.
UAE's boundless potential in space exploration
Since the launch of Hope Probe at 1:58 am UAE time on July 20, 2020, the Emirates has demonstrated its boundless potential in the field of space exploration. Recently, the EMM (Emirates Mars Mission) has released fourth batch of scientific data collected by instruments of Hope Probe while orbiting around Mars.
For the past one Martian year (Earth's 2 years), Hope Probe has been orbiting the Red Planet, developed by Emirati engineers and researchers, in collaboration with three US universities (University of Colorado Boulder, University of Arizona and University of California, Berkeley).
Scientific gains and achievements made by Hope Probe
As of now, Hope Probe has shared 688.5 gigabytes of fresh data with the international scientific community. The global experts have stressed that the information will help in answering key questions about the atmosphere of Mars and the loss of hydrogen and oxygen gases into space.
Also Read: Abu Dhabi's meteoric rise to the top of the global cycling rankings
Milestones achieved by Hope Probe
The fourth batch of scientific data released recently includes new observations from Emirates Mars Ultraviolet Spectrometer (EMUS) to provide aurora's better coverage. Eng Omran Sharaf, project director of Emirates Mars Mission, had said: "We will continue to identify ways in which we can enrich our discoveries and observations to deliver above and beyond our mission, to further enhance the international community's knowledge and understanding of the Red Planet, and to bolster the UAE's position in the global space domain."
Hessa Al Matroushi, Emirates Mars Mission Science Lead, noted, "The latest insights on Mars and its atmosphere reaffirm that there is much to discover, and we are looking forward to seeing the mission's objectives of providing useful scientific data, enhancing national capabilities, and fostering global collaboration come to fruition with every new data collected."
More satellite parts to be manufactured by Strata and Mohammed bin Rashid Space Centre
Mubadala Investment Company's aerospace unit Strata has struck a new deal with Mohammed bin Rashid Space Centre to produce additional parts for the UAE's Earth-imaging satellite MBZ-SAT. This agreement is an extension of existing partnership between the two aimed to develop UAE's space sector. Ismail Abdullah, Strata's chief executive, said in a statement, "In addition to supporting the UAE's aspirations in the space sector, Strata is pleased to be associated with the MBRSC as a trusted partner and collaborator."
Also Read: UAE President Visits Seat Of The French National Assembly In Paris
"The MBRSC is dedicated to supporting national private businesses that will contribute to the growth of the UAE's space industry," Salem AlMarri, MBRSC's Director General, said. "We have entrusted Strata to manufacture both mechanical and flat parts of MBZ-SAT, due to their high-calibre capabilities as manufacturers of a national product."
MBZ-SAT, the 3m x 5m satellite, weighs at around 700 kg, is set to improve image capture resolution by over double of what is possible in the previously launched satellites. It will further enhance the downlink data transmission speed by three times. The "fully automated image scheduling and processing system of MBZ-SAT will also be able to produce more than 10 times the images the Centre produces currently".