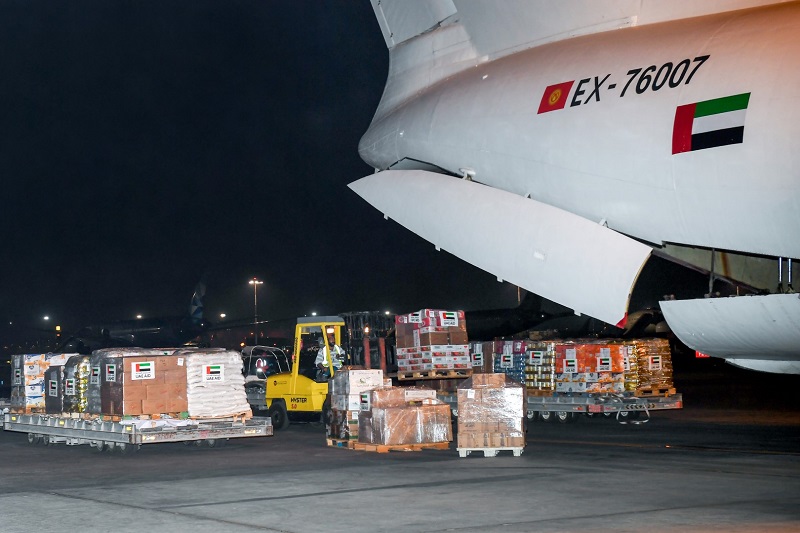 uae sent 3 planes carrying humanitarian aid to afghanistan yesterday
UAE sent 3 planes carrying Humanitarian Aid to Afghanistan yesterday
To aid earthquake victims in Afghanistan, the UAE has dispatched 3 planes carrying a 1,000 square metre field hospital with 75 beds and two operating rooms outfitted with the most modern medical equipment and supplies.
This is part of the ongoing efforts made by the UAE to run an air bridge in the wake of the most recent catastrophe.
In addition, the UAE deployed a medical team and 16 metric tonnes of supplies to manage the hospital and deliver emergency care.
Also Read: UAE Consistent Efforts To Address Afghanistan Earthquake Crisis
The directions to give immediate relief for earthquake victims were issued by President His Highness Sheikh Mohamed bin Zayed Al Nahyan.
"Sending the field hospital and medical aid comes as part of measures to promptly respond to medical emergencies and support individuals affected by the earthquake that recently happened southeast of the Afghan city of Khost," said Eisa Salem Aldhaheri, UAE Ambassador to the Islamic Republic of Afghanistan.
UAE sends three planes carrying aid to Afghanistanhttps://t.co/sOrQ4EuM5m

— وزارة الخارجية والتعاون الدولي (@MoFAICUAE) July 2, 2022
Aldhaheri emphasised that the UAE's eagerness to provide the required criteria to start running the field hospital as soon as feasible is shown in the deployment of a specialised medical staff and equipment. Thousands of people who were hurt by the earthquake require immediate medical attention and ongoing care.
Also Read: UAE's air bridge under MBZ vision a source of humanitarian aid to earthquake hit Afghanistan
He added, "As part of the recent humanitarian air bridge for earthquake victims in Afghanistan, the UAE recently dispatched an assistance plane with 30 metric tonnes of food supplies. The shipment is addressing the food deficit for several families and vulnerable groups hit by the earthquake, particularly women and children."
Also Read: UAE: Gender Balance and the Federal Authority for Identity and Citizenship
In an effort to support global efforts to lessen the effects of the recent earthquake in Afghanistan, the UAE has broadened its emergency relief assistance to earthquake victims. This includes a variety of food and medical help, as well as the field hospital.