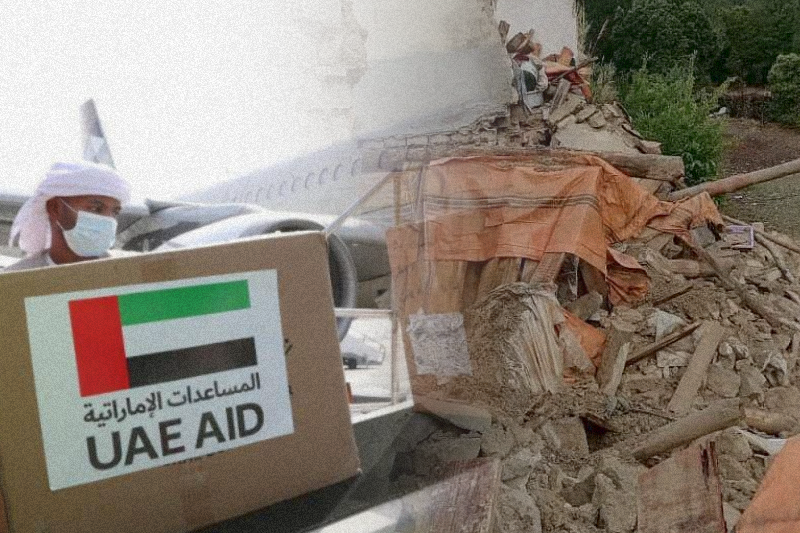 uaes air bridge in afghanistan a source of humanitarian aid to earthquake hit country
UAE's air bridge under MBZ vision a source of humanitarian aid to earthquake hit Afghanistan 
United Arab Emirates is continuing to lead the baton of humanitarian support to other countries by extending the essential medical aid and food supplies to Afghanistan after the country was hit by catastrophic earthquake killing more than 1000 people.
Air bridge under MBZ directives source of essential aid
Under the directives of UAE President His Highness Sheikh Mohammed bin Zayed Al Nahyan, operations of an air bridge have begun in Afghanistan that is enabling carrying medical supplies and food to the crisis hit country.
The air bridge is making it easier and smooth to continue humanitarian efforts of UAE under vision of MBZ through supply of food parcels, medical equipment, a medical team and a makeshift hospital to help the people of Afghanistan who have impacted by the one of the most catastrophic earthquakes to have hit the country in two decades. The most affected areas include the Khost and Paktika provinces in southeastern Afghanistan resulting in thousands of casualties.
Head of the Afghan traders' council in UAE, Obaidullah Sadarkhail said, "After the earthquake happened in our provinces, the government oof the UAE decided to provide emergency supplies through an air bridge. The flights take place on a daily basis and bring tents, blankets and medicine."
Also Read: UAE President MBZ provides $25 million in aid for the East Jerusalem hospital
Medical team and field hospital established
Furthermore, a field hospital too has been established in south east part of Afghanistan, that has been most impacted by the earthquake. A medical team too has been deployed that is working relentlessly to treat the people of Afghanistan for common ailments amid rising concerns of cholera.
UAE leading the baton of humanitarian efforts in Afghanistan
The humanitarian efforts in Afghanistan come as an extension of continuous follow up by UAE on the latest developments in the series of crises hit country. The efforts by UAE are with sole agenda to help alleviate the suffering of people in the country and reduce the implications of the devastating earthquake that struck Afghanistan, killing and injuring thousands.