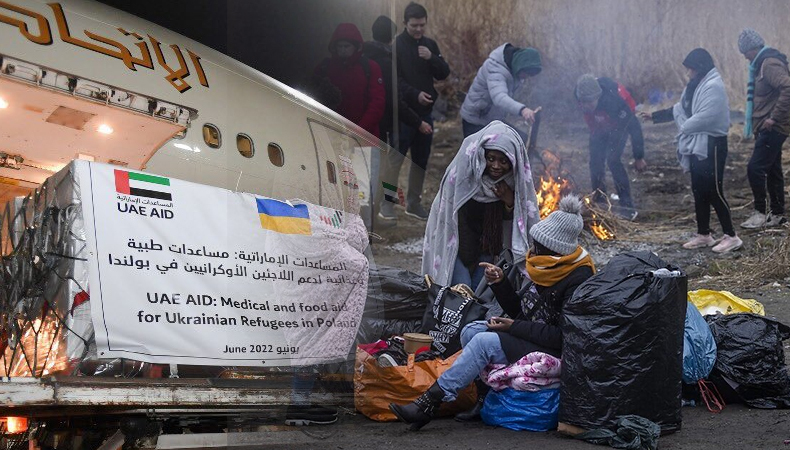 uae supports ukrainians in poland and bulgaria with humanitarian aid
UAE Supports Ukrainians In Poland and Bulgaria With Humanitarian Aid
The United Arab Emirates is showing great compassion as it offers help to Ukrainian citizens seeking shelter in Bulgaria, by providing them with food and other supplies through a chartered flight. To the tune of 52 tonnes, the humanitarian support is a way to support the rehabilitation efforts for Ukrainian citizens.
World over, support has been coming in for displaced Ukrainians. While United Kingdom had opened its door for asylum, Bulgaria is said to be housing some 90,000 Ukrainians at the moment.
UAE is known to have helped most nations, when in crises. The instances of its humanitarian aid in times of Covid-19 have been widely appreciated as well. Mid of June, another chartered plane carried supplies to the tune of 27 tonnes to the Ukrainian citizens stranded in Poland as well.
Before that, the Emirates sent six planes to Poland and Moldova, carrying more than 156 tonnes of food and medical supplies. In March, the UAE announced it would provide relief aid to affected civilians in Ukraine worth $5 million, in response to an urgent appeal by the UN.
As the Ukrainian war continues for the fourth month, there is military aid also coming in from all quarters. But of more consequence is the humanitarian aid that is needed to sustain life. Australia for example has been sending aid through various consumable articles to Ukrainians. Japan has agreed to help Ukraine, expand its grain storage capacity as the season approaches, while additionally committing $100 million towards humanitarian aid.
As of now, according to official statistics gathered by the United Nations, some 16 million people inside the country also need humanitarian aid.
Almost, six million Ukrainians have been forced to flee their homes for other parts of the country since the war started, though around 5 million have since returned. Those displaced includes a lot of orphaned children too.