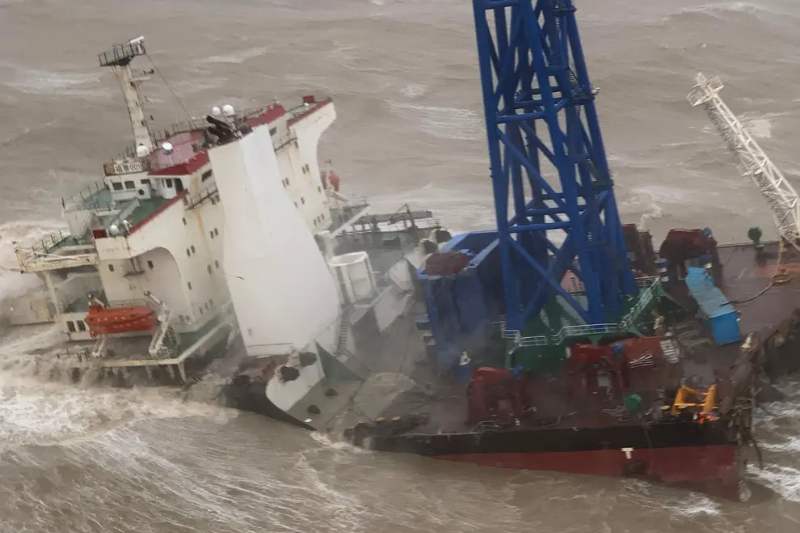 Dozens are thought to have died as the ship sinks off Hong Kong
Dozens are thought to have died as the ship sinks off Hong Kong
As giant waves battered the sinking vessel, authorities sent in planes and helicopters to assist in the rescue effort.
Rescuers in Hong Kong said a South China Sea industrial support ship has sunk in a typhoon, with the likely death of more than two dozen crew members.
Rescuers are scrambling to find more than two dozen crew members who have not been accounted for after their ship broke in two during a storm in the South China Sea on Saturday. Officials have claimed that they are looking for them.
As of 5:30 p.m. local time (5:30 a.m. ET) on Saturday, three of the 30 members of the crew had been rescued thanks to the efforts of planes and helicopters summoned by authorities.
Related Posts
The Hong Kong Government Flying Service posted images of a crew member being winched to a rescue aircraft as the sinking ship, which had split into two, was battered by large waves.
The disaster occurred 186 miles south of Hong Kong.
According to a statement released by the authorities, the three survivors speculated that the remaining crew members might have been carried away by the waves before the first chopper arrived.
The name of the vessel or its place of origin was not provided by the Flying Service. It was stated in a statement that crew members were managing problems brought on by Severe Tropical Storm Chaba, which was packing maximum winds of 68 miles per hour.
Later on Saturday, the storm made landfall in the western portion of Guangdong Province, which is located along the coast.
The Hong Kong service contributed to the search and rescue operation by deploying two fixed-wing aircraft and four helicopters.
The search area is going to be expanded "due to the large number of individuals missing," according to the rescue workers, and they plan to continue their efforts into the night if the weather permits them.
According to the Flying Service, the engineering vessel, which was located 160 nautical miles (296 kilometers) southwest of Hong Kong, "suffered substantial damage and broke into two parts," prompting all 30 members of the crew to flee the ship.