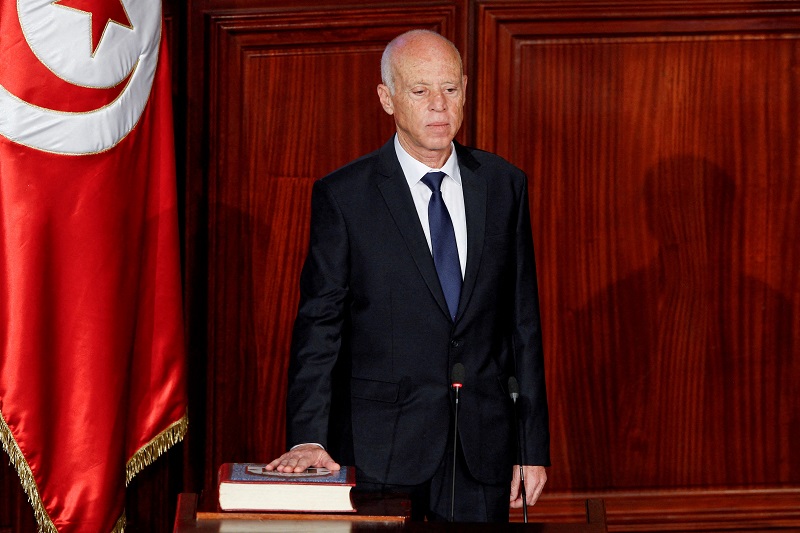 file photo: tunisian president kais saied takes the oath of office in tunis
Economic crisis affects social and political chaos in Tunisia
The President of Tunisia, Kais Saied, announced that he will remake Tunisian politics in 2022 with a new constitution and parliament. However, the threat of national bankruptcy may ruin his plans.
Tunisia reportedly requires an international rescue package to prevent a disastrous collapse in public finances, with some state salaries delayed in January. Tunisia faces mounting public debt, inflation, 18 per cent unemployment, and halted negotiations with the International Monetary Fund (IMF).
However, the finance minister of Tunisia said on Wednesday that public sector salaries were not at risk. Reportedly, delays in paying workers raised fears about state finances. The finance minister said that Tunisia hopes to seal a funding agreement with the IMF in April 2022. He also said state sector wages were "not under threat in the coming months."
Talks between the IMF and Tunisia over a rescue package on economic reforms were halted in July when President Kais Saied sacked the government and suspended parliament. Earlier, Saied also laid out a roadmap for drafting a new constitution before elections.
Related Posts
Reportedly, donors want the president to embrace a more inclusive political process to ensure Tunisia's young democracy survives. Kais Saied's sacking of the government and freezing parliament last July was not welcomed by citizens and opposition parties. At that time, opposition parties were protesting against the suspension of parliament by President Kais Saied.
His decision to suspend the parliament has sparked large demonstrations both for and against him.
Severe political crisis in Tunisia
The country has been suffering a severe political crisis since 25 July, when Saied suspended parliament, issued laws by presidential decrees, and appointed a new government. Reportedly, political parties and civil society groups continue to reject Kais Saied's "monopoly of power" in the country. They demand their right to decide the country's future amid a worsening socio-economic situation.