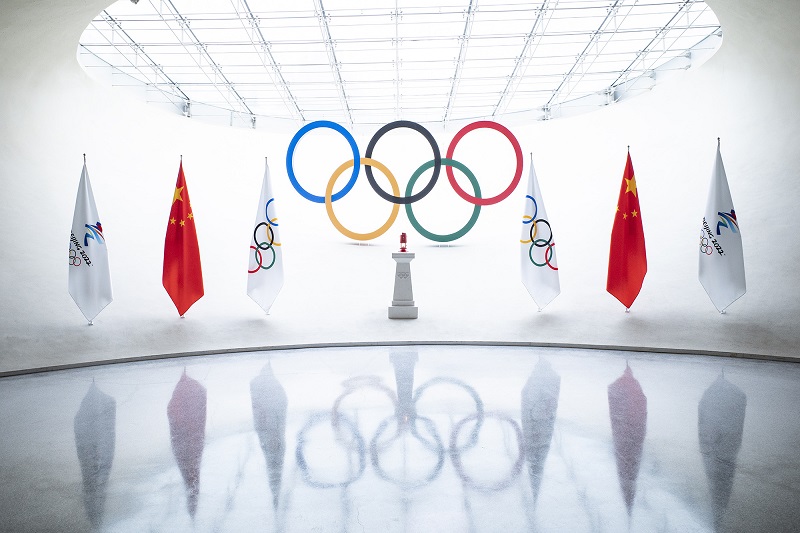 olympic flame for beijing 2022 winter games exhibited in beijing
Beijing Olympics: Three-day torch relay kicks off
Beijing Olympics ' three-day torch relay started on Wednesday with an 80-year-old speed skater carrying the flame.
The country's first internationally acclaimed speed skater, Luo Zhihuan, ran the first leg in the relay at the Olympic Forest Park.
The ceremony was shortened considerably due to concerns sparked by the coronavirus.
According to media reports, the torch will be carried across the three Olympics zones, opening with downtown Beijing. It will be heading to Yanqing district, ending at Zhangjiakou in neighbouring Hebei Province.
It is pertinent to state that Beijing, with its 20 million residents, has seen only a handful of COVID-19 cases, reporting just two new ones on Wednesday. But, China's "zero tolerance" policy in the pandemic, strict rules have mandated lockdowns and mass testing.
Various political controversies and medical considerations have impacted the Winter Games.
The United States, Britain, and allies said they would not be sending dignitaries to attend the Games, protesting against the Communist Party regime's human rights abuses.
Related Posts
It is also important to mention that the Beijing Games have already met a fate similar to that of Tokyo during last year's Summer Olympics.
China said only selected people would be allowed to attend events. Meanwhile, Olympic athletes, staff, journalists, and officials are required to be in a bubble that keeps them at the bay of the general public.
The program, however, seemed to have little effect on Zhihuan, who received the torch from Vice Premier Han Zheng and said it was the realization of his decades-long aspiration.
"Today my dream has come true. You have no idea how happy I am," said the 80-year-old speed skater.
"I've never taken part in the Winter Olympics. I had hoped that China could host the Winter Olympics. I had the dream for 60 years," he added. Reports say that the opening of the Beijing Games comes days after the Lunar New Year holiday — China's biggest annual celebration marked with family reunions