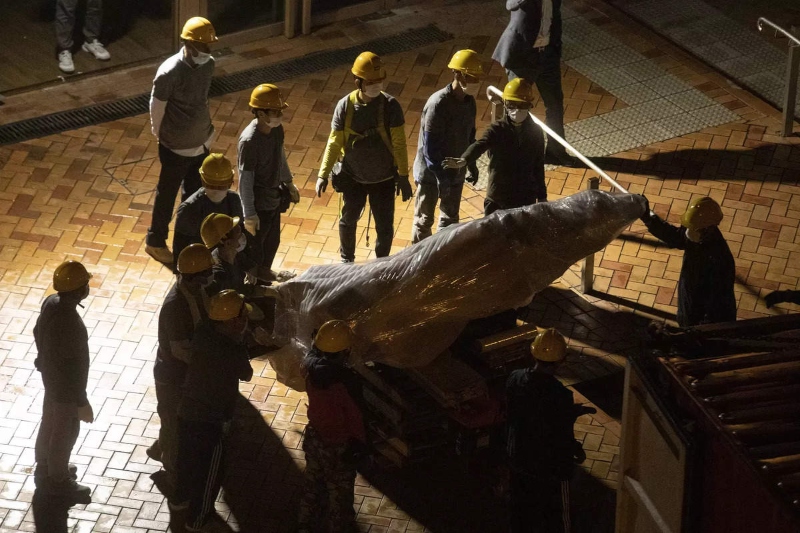 remove tiananmen square protest artwork
Hong Kong: More Universities Remove Tiananmen Square Protest Artwork
Hong Kong
More Universities in Hong Kong removed public artwork commemorating China's 1989 crackdown on pro-democracy protesters in Beijing's Tiananmen Square. The Goddess of Democracy statue was taken away from the Chinese University of Hong Kong (CUHK) claiming that the statue was unauthorized.
The statue, depicting a woman holding a flame high, was created by Chen Weiming. After an internal assessment, CUHK removed the statue. The removal of The Goddess of Democracy came a day after Hong Kong's oldest university took down a statue named the Pillar of Shame, commemorating the events of 1989 in Tiananmen Square. The Pillar of Shame statue was a key symbol of the wide-ranging freedoms promised to Hong Kong at its 1997 return to Chinese rule.
Universities removing  Tiananmen Square Protest Artwork 
Earlier, another Hong Kong university also removed a statue commemorating the crackdown from campus. As per the report by Deccan Herald, Hong Kong's Lingnan University also took down a Tiananmen massacre wall relief sculpture from the campus.
The sculpture also included a depiction of The Goddess of Democracy. Lingnan University said in a statement that a recent review had said that the sculpture may pose legal and safety risks.
Reportedly, students gathered Thursday morning at the University of Hong Kong to contemplate the removal of a statue. The statue was present there for more than two decades.
Related Posts
1989 Tiananmen Square crackdown
Reportedly, China never provided a full account of the 1989 Tiananmen Square crackdown. The officials gave a death toll of about 300 people. However, rights groups and witnesses said that thousands of people might have been killed.
The peaceful pro-democracy protesters campaigned for more democracy in the 1989 crackdown at Beijing's Tiananmen Square. According to Bloomberg, Hong Kong was the only place for decades under Beijing's control where people could openly discuss the Tiananmen crackdown.