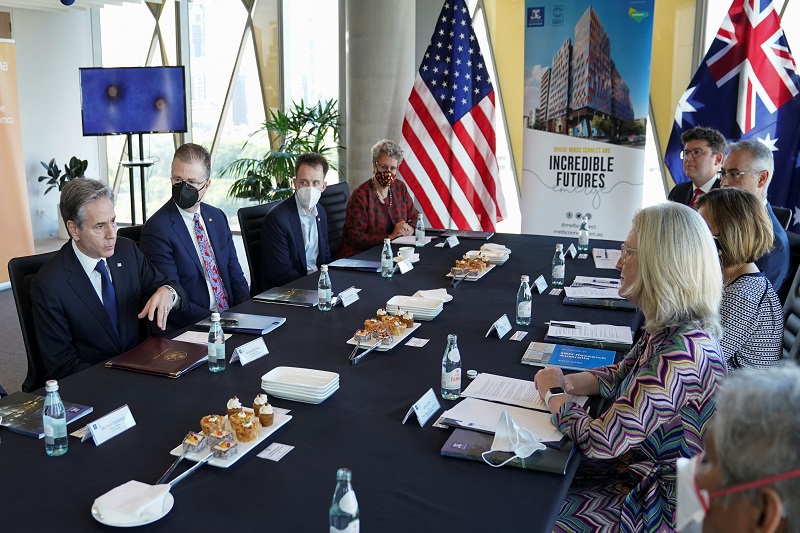 u.s. secretary of state antony blinken takes part in a health security partnerships roundtable in melbourne
America Focuses Back On Quad Relationship In Melbourne Informal Meeting
America – An informal grouping amongst foreign ministers of the Quad at Melbourne is going to concentrate of three Cs- Climate Change, Chinese coercion and the ongoing battle with Coronavirus.  
Comprising Australia, India, Japan and the United States, the meeting might expand discussions over escalating tensions between the West over Russian chances of a standoff with Ukraine. The US Secretary of State, Anthony Blinken will be representing the US, a country which has promised to stand by Ukraine. But it is also making its presence at the forum because it intends to show its seriousness to be committed to building relations in the Asia Pacific. The distractions are real but Washington remains relentless to pursue its own agenda as well.
Speaking at the start of her bilateral meeting with Blinken, Australian Foreign Minister Marise Payne said on top of cooperation in the Indo-Pacific, climate change and Covid related issues, the two top diplomats will also be discussing China, North Korea and Ukraine.
Related Posts
Speaking to the media, Payne and Blinken both admit that 'coercion' is something that will not be tolerated and needs to be addressed. While no one has taken the name of Beijing in particular, the indications are clear. Also in focus would be issues like cyber and maritime security, infrastructure, climate action and disaster relief – especially after the recent Tonga volcanic eruption.
Seeing a promising relationship amongst Quad nations, Blinken has been candid in saying that Quad indeed is a 'powerful mechanism' to deliver vaccines worldwide. While America has always been very serious about the Quad partnerships, it has shown more interest recently. A major reason for this could be the Chinese-Russian declared last week of a "no limits" strategic partnership, their most detailed and assertive statement to work together – and against the United States – to build a new international order based on their own interpretations of human rights and democracy.