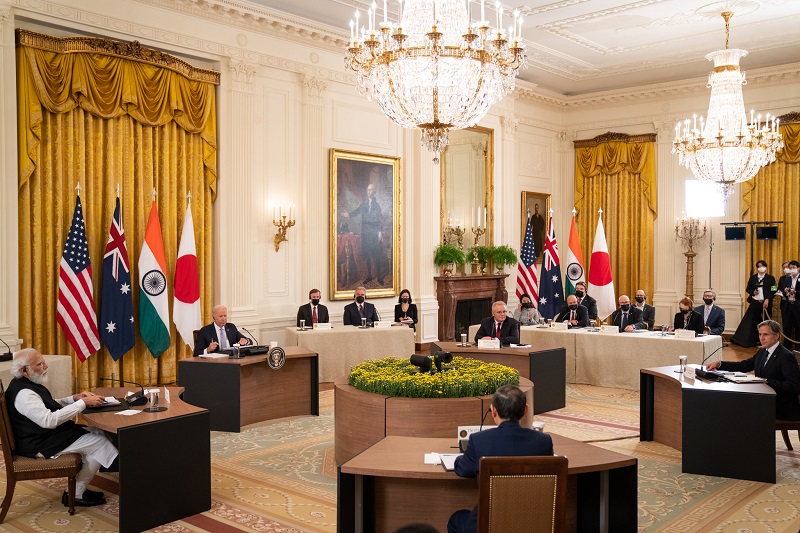 president biden hosts quad leaders summit at white house
Informal Quad Association In Serious Form In 2022 In Japan
What essentially started as an informal collaboration is now formally used as 'The Quad.' Initially, it was known as the Quadrilateral Security Dialogue that had its origins after the terrible 2004 Indian Ocean tsunami.
Also Read: What to expect from Davos 2022: World Economic Forum's most critical meet in five decades
It became imperative to neighbours to look out for each other. Latin for four, the word brings forth a consortium of four countries. In 2004, the countries had come together loosely, to provide humanitarian and disaster assistance to the affected region. Now, the terminology has taken different proportions. In 2007, it was formalized by the then Japanese PM Shinzo Abe, and then went into dormancy. Its only after a decade, particularly amid Australian concerns that its participation in the group would irritate China.
Related Posts
This time, its India, Australia, Japan and the US who have come together at the latest Quad Summit to be held in Japan currently. India is in attendance trending carefully as back home, there is turmoil over Russian support and escalating regional communal tensions. Also attending are Joe Biden, Fumio Kishida and Australia's newly-elected Prime Minister Anthony Albanese.
As of now, South Korea has shown keen interest in being a part of the Quad, but there has been no indication it would be added.
Also Read: Sheikh Mohamed named UAE President: US Congress hails UAE as key partner to Washington
Acronyms have become fashionable. Diplomats can't help themselves. Once they start up different pairings or partnerships, they can't resist assigning shorthand names like the Quad or baffling acronyms like AUKUS (the new Australia- U.K.-U.S. alliance.) Another acronym that got attention this week while President Joe Biden was in Asia: IPEF, short for the U.S.-proposed new trade pact called the Indo-Pacific Economic Framework.
The name is also being loosely used in America for similar kinds of medical and engineering summits. Maybe, that could bring some seriousness into collaborative workings in 2022.