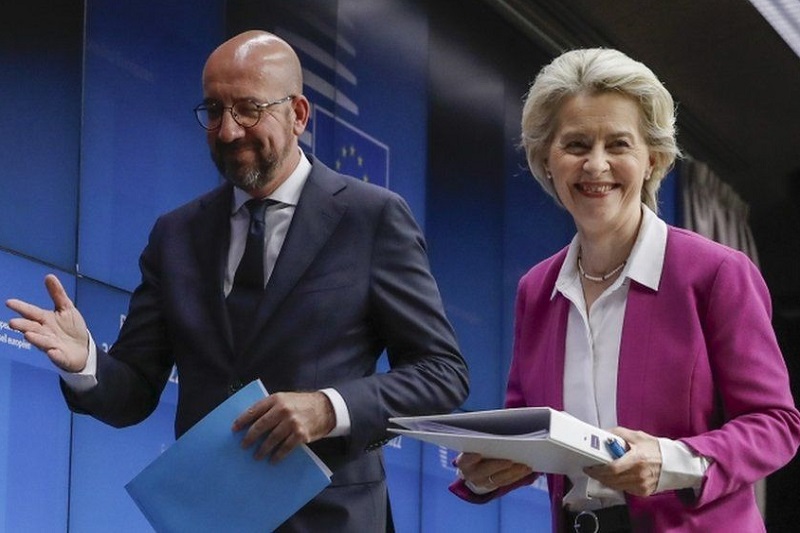 eu agrees to ban 90 of russian oil imports by end of 2022
EU agrees to ban 90% of Russian oil imports by end of 2022
The European Union has agreed on a plan to ban more than two-thirds of Russian oil imports. According to an announcement made by European Council chief Charles Michel, the ban will be imposed on oil arriving by sea and not the pipeline oil in view of the opposition posed by Hungary.
"Agreement to ban export of Russian oil to the EU. This immediately covers more than 2/3 of oil imports from Russia, cutting a huge source of financing for its war machine," Michel posted in a tweet.
The oil ban comes as part of the sixth package of sanctions against Russia in response to Ukraine invasion as agreed by European leaders during a summit in Brussels.
Sixth set of sanctions
The leaders have further approved the ban on 90 percent of Russian oil imports by the end of the year.
Michel added that the sanctions package will include several other hard-hitting measures such as banning 3 additional Russian state-owned broadcasters, cutting off Russia's largest bank Sberbank from the Swift payment system, and imposing sanctions on individuals responsible for war crimes in Ukraine.
Keep Reading
As per Ursula von der Leyen, president of the European Commission, while all Russia oil delivered by tankers have been banned (90 percent), exemption has been made for the southern segment of the Druzhba pipeline (10 percent). The decision was taken after Poland and Germany which receives oil from the northern segment of the pipeline approved the embargo. On the other hand, the southern section caters to Slovakia, Hungary, and the Czech republic.
Ursula von der Leyen added that the scope of the ban became wider after Poland and Germany pledged to suspend their own pipeline imports by the end of this year.
Reportedly, Europe is the biggest market for Russian energy, supplying more than 2 million barrels of oil every day. As of 2021, Russia is supplying 27 percent of the EU's imported oil as well as 40 percent of the region's gas in exchange of about €400bn ($430bn, £341bn) a year.
Meanwhile, EU leaders are scheduled to further discuss the bloc's response to Russia's invasion of Ukraine. During the meeting, EU have also agree on providing Ukraine with a 9 billion-euro ($9.7 billion) tranche of financial aid with the aim of supporting the economy of the war-hit country.