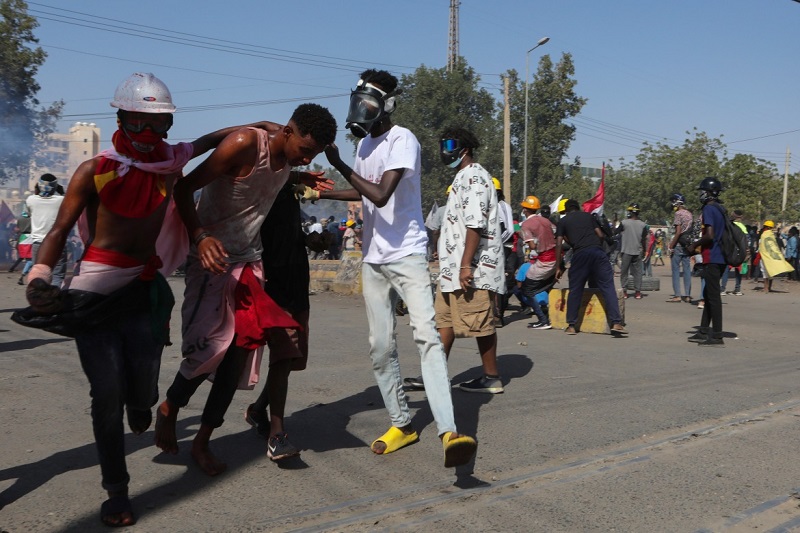 sudanese forces resort to tear gas against protesters standing against coup
Sudanese forces resort to tear gas against protesters standing against coup
Sudan -Protests and demonstrations in Sudan refuse to go down as people take to the streets express their strong disapproval for the military coup that destroyed their nation to the very core.
The African nation has been witnessing extreme violence since the last few days which has also resulted in many of the civilians to leave the country. Recently the security forces were found to be using tear gas on protesters to disperse them as they were trying to move closer to the presidential palace.
The Sudanese military took over the nation in October last year and a wave of political detention started. With the takeover, the partnership between the military and civilian political parties came to an end. This was highly opposed by the international organizations and received a lot of backlash by the west.
This particular protest was reportedly called by the neighborhood resistance committees which drew hundreds of people from their houses onto the streets where at least 79 have been killed, The protest also saw more than 2,000 of people getting injured in the process of marching towards the presidential facility.
Related Posts
To escape from the chaos and violence by the forces, many of the protestors chose to diverge from the planned routes on Thursday and still continued to march towards the presidential palace. They were dealt with tear gas and also saw the heavy security on their way and reportedly attacked them.
One of the young protestors on the streets stressed that they will continue to show the same spirit regardless of the treatment. Salah Hamid, a 22-year-old university student said, "We will continue demonstrating in the streets until we bring down military rule and bring back democracy."