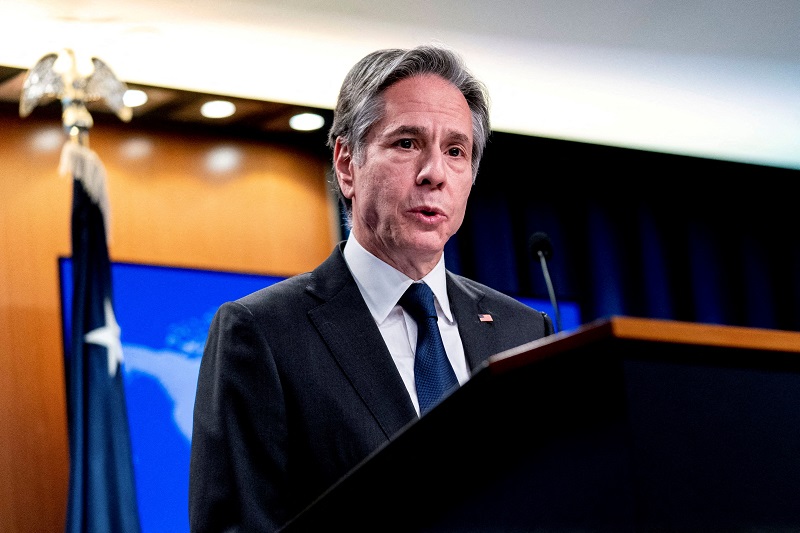 file photo: u.s. secretary of state blinken speaks about russia and ukraine at state department in washington
Blinken accuses Russia of gaslighting
On Friday, US Secretary of State Antony Blinken accused Russia of falsely claiming that it was under threat from NATO and Ukraine.
As per Blinken, Russia has resorted to gaslighting to justify its troop build-up near its border with Ukraine.
Blinken said Russia had worked for years to trample Ukraine's democratic institutions. The top US diplomat accused the Putin administration of interfering in the former Soviet republic's politics, energy and commerce and was sowing mistrust with disinformation and propaganda.
He was addressing a State Department press conference.
It is pertinent to state that Russia has positioned nearly 100,000 troops on its border with Ukraine. Blinken accused Russia of aiming to double that number on short notice.
The diplomat's statement comes ahead of the US-Russia talks next week to de-escalate tensions amid Russia's military build-up along Ukraine's borders.
Related Posts
He warned that the West was ready to respond with "force" if Russia stepped up its aggressive actions.
"We're set to respond forcefully to any Russian aggression, but as a diplomat, I'll always seek a diplomatic solution that is still possible and preferable. It, however, depends if Russia chooses it," Blinken said.
"That's what the US together with its allies and partners will continue to seek intently next week. However, Russian actions are in no way justified as they are resorting to misinformation that Ukraine is seeking to provoke a conflict," Blinken said.
"That's like the fox saying that it had to attack the hen's house because its occupants were posing a threat. We have seen this gaslighting before," the US Secretary of State said, citing Russia's 2014 occupation of Crimea and backing separatists in the Donbas region.
"The allegation that Ukraine is the aggressor is absurd," Blinken said, adding that Russia was "driving the false narrative that NATO has been threatening it."