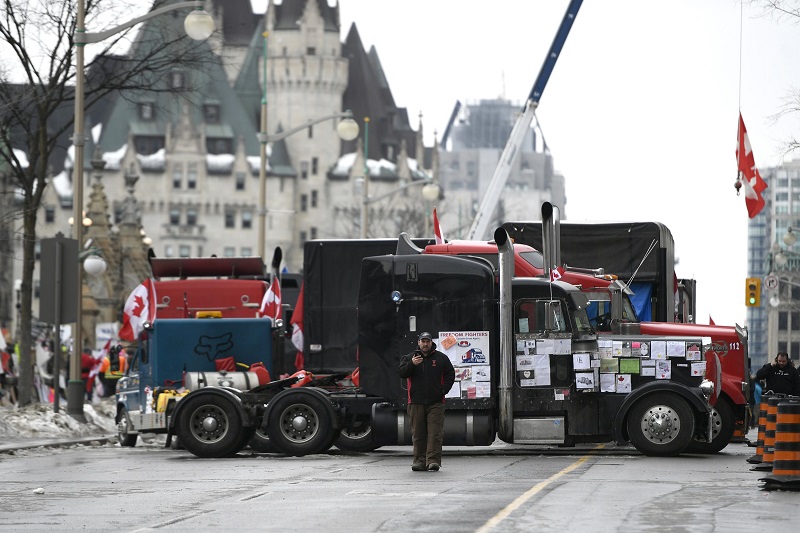 the united states urges canada to use federal powers to end the blockade by truckers
The United States urges Canada to use federal powers to end the blockade by truckers
Canada -The United States (US) officials on Thursday urged Canada's government to use its federal powers to end anti-mandate protests by the truckers.
The closure of the Ambassador Bridge has affected the supply route for Detroit's carmakers. It also affected carmaker operations. Reportedly, the truckers began blocking the Ambassador Bridge on Monday. Subsequently, they shut two smaller border crossings in Alberta and Manitoba provinces to demonstrate opposition to a vaccination mandate. Car-makers and local authorities requested authorities to end the protest and safely reopen the bridge. The protests by truckers started as a "Freedom Convoy" occupying Canada's capital, Ottawa.
U.S. Homeland Security Secretary Alejandro Mayorkas and Transportation Secretary Pete Buttigieg on Thursday urged Canada to use federal powers to control the situation.
Canadian federal ministers also called the blockade illegal. The ministers asked protesters to end the demonstration and return home.
Canadian Prime Minister Justin Trudeau and Drew Dilkens, the mayor of Windsor, Ontario, talked about the situation on Thursday. The prime minister reportedly said, "It is causing real harm to workers and economies on both sides of the border."
Related Posts
Truckers gathered in Canada in recent days to protest vaccine mandates, masks and lockdowns. Earlier, the convoy of truckers and others gave threats to the police during the protest. They also warned about the possibility of violence and told residents to avoid downtown. One truck carried a Confederate flag and many carried expletive-laden signs to protest vaccine mandates.
The truckers demanded to remove Covid-19 restrictions such as a vaccine mandate on truckers plying between Canada and the U.S. Truckers started running their engines and honking their horns day and night to protest against all Covid-19 mandates.
Recently, an Ontario court has stopped protesters from accessing online donations. The group organising the protest raised more than C$10m online. However, the fundraiser was paused by GoFundMe for allegedly violating its policy on harassment.