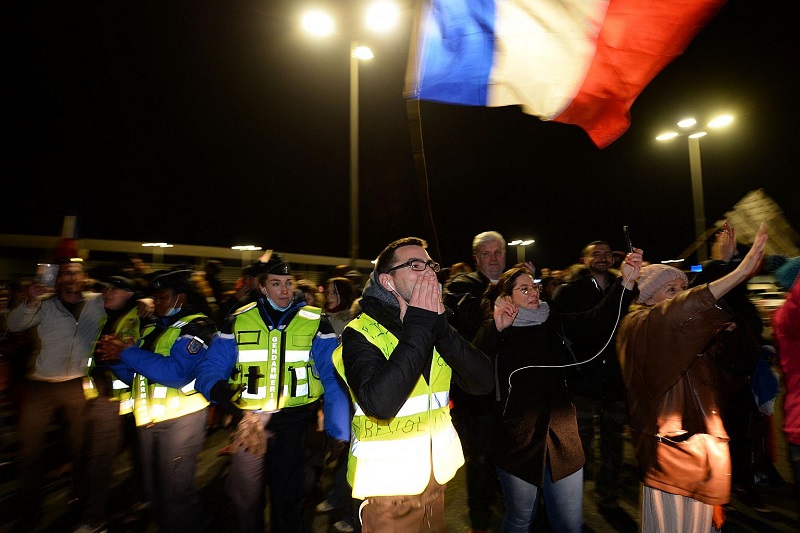 french freedom convoys macron urges calm as canada style protests threaten to blockade paris
French "Freedom Convoys": Macron urges calm as "Canada style" protests threaten to blockade Paris
Canada -Thousands of police, armoured personnel carriers, and water cannons were deployed in the French capital on Friday as scores of protesting motorists approach Paris demonstrating against Covid-19 restrictions. The French government had ordered strict checkpoints at toll points on main entry roads leading to Paris along with riot control barriers erected across city centre before weekend planned rallies.
French police has warned the so-called "Freedom Convoys" from blockading the capital city. Taking inspiration by truckers who paralyzed the Canadian capital city of Ottawa, truckers and other motorists from across France are heading towards Paris. "We've been going around in circles for three years," said pensioner Jean-Marie Azais, who is a part of a "Convoie de Liberte" headed to the capital from the southwest, protesting against France's anti-COVID strategy. "We saw the Canadians and said to ourselves, 'It's awesome, what they're doing.' In eight days, boom, something was sparked."
"There will be a special deployment … to prevent blockages of major roads, issue tickets and arrest those who infringe on this protest ban," the Paris police force had said in a statement.
Related Posts
Urging calm, President Emmanuel Macron said while speaking to newspaper Ouest France, "We have always safeguarded the right to protest … but we need harmony and we need a lot of collective goodwill."
With more than 80 per cent of people in France having been vaccinated against Covid-19, Macron has received major support for his crusade against the anti-vaxxers in the country. But widespread restrictions due to coronavirus and widely enforced vaccine pass has rather irritated people in France and triggered demonstrations. "The authorities cannot block everyone," a woman said in Toulouse while cheering on motorists. "The convoys must force it, they must still try to enter."
These protests are being compared to the "Yellow Vest Movement" that had first erupted in 2018 against the rising fuel prices. Soon the platform became a general place for other grievances that are linked to economic hardships faced by the people. The movement got its name "yellow vest" because protesters wore fluorescent safety jackets that vehicles in France must have.