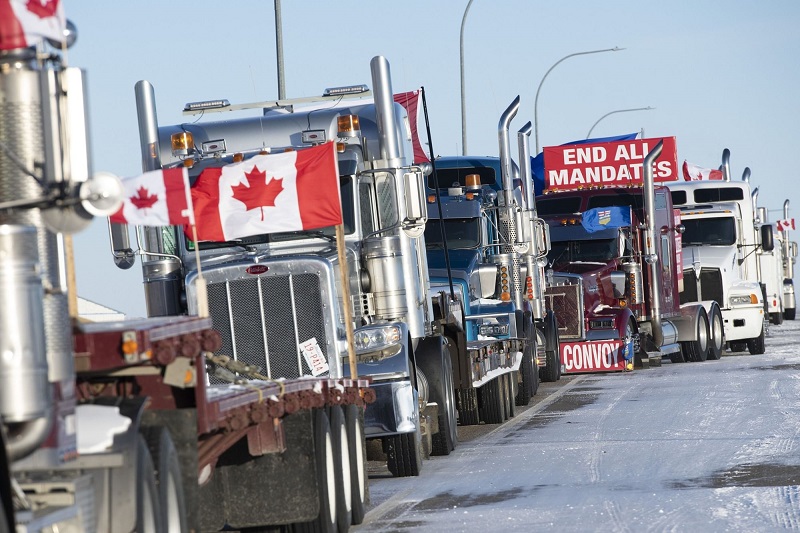 how trucker protests is affecting canadian geopolitics
How Trucker Protests Is Affecting Canadian Geopolitics?
Canada -The rigid vaccine mandates have taken the better of everyone in Canada. People are crying out loud against it so much so that cries of 'Freedom' and 'Liberte' can be heard everywhere. What is hurting people are the breathtaking measures (in the negative sense) including strenuous testing protocols. People are done with the authoritarian ways of dealing with the spread of the Covid-19 virus.
Truckers' protests have hit the roof, but the current PM has demeaned and ridiculed their effort are unnecessary. Truckers are underappreciated but their efforts are huge and irrelevant. Called the 'Freedom Convoy', the trucker's movement did gain huge momentum and nearly 50,000 truckers descended upon the nation's capital in Ottawa.
But then Trudeau couldn't handle the influx and reportedly fled and used one of the tenets of Covid-19, in his case, a close contact, to warrant his absence upon their arrival. Whether valid or not, the optics were poor, as the Prime Minister refused to acknowledge the protests in-person and instead opted for press releases via media conglomerates and his Twitter account.
Related Posts
Peaceful protests have been seen throughout the nation; supporting the convoy of truckers. This includes media professionals and politicians alike. The Trudeau government had evoked the Emergency Act, something that did not go in his favor. Unfortune dictatorship could be smelt everywhere in the small Canadian population.
Most notably under the brief nine-day period of the Act, banks became authorized to freeze the accounts of anyone associated with supporting the Freedom Convoy, even in the form of minor donations. Trudeau's decision to revoke the Act is certainly a victory for Canadian citizens and truckers but their initial request to end invasive vaccine mandates remains untouched and out of sight.
It is worth noting that truckers are the lifeline of the country that carry trade across the Canadian border into the US. Their word can not be ignored, something Trudeau has taken lightly.