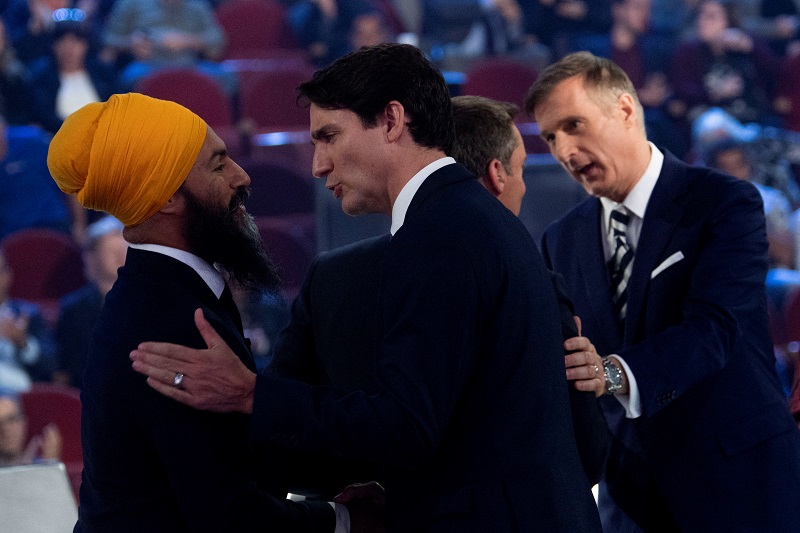 file photo: federal leaders french language debate in gatineau
Canada's Trudeau signs deal to stay in power until 2025
Canada's ruling Liberals have locked a deal with a left-leaning opposition party until 2025 — a mandatory step to prop up their minority government.
Prime Minister Justin Trudeau announced Tuesday that the "supply-and-confidence" agreement with the left-leaning New Democratic Party had been stamped.
He promised to advance a range of issues, which include a dental care programme for low-income families, saying the deal would bring stability to Canadian politics.
The agreement was deemed mandatory after a series of snap elections in recent years.
According to media reports, the deal gives the Liberal Party 184 votes in the 338-seat House of Commons, where a majority is 170 seats. Moreover, the agreement gives Trudeau's party the ability to stay in power for a complete four-year term. The NDP has agreed to back it on confidence votes and budgets.
Related Posts
"This means that during this uncertain time, our government can function with stability and predictability, present and implement budgets, and ensure steps taken for Canadians," Trudeau said.
"Both parties have identified important policy areas where we share aligned objectives and we've agreed to work together to put the interests and needs of Canadians first."
The NDP outlined various policies the parties agreed to advance as part of the agreement, including a universal prescription-drug coverage programme and a dental care programme for low-income Canadians.
The NDP also pledged to continue fighting against the climate crisis and phase out financing of the fossil-fuel sector.
NDP leader Jagmeet Singh said his party was working to ensure that people get their teeth fixed and avail the medication they require.
"And we're not allowing the Liberal government off the hook. We are going to fight hard for people and ensure we hold the government to account to deliver things that people need," he said.
It is pertinent to state that the NDP has backed the Liberals in necessary votes since 2019.