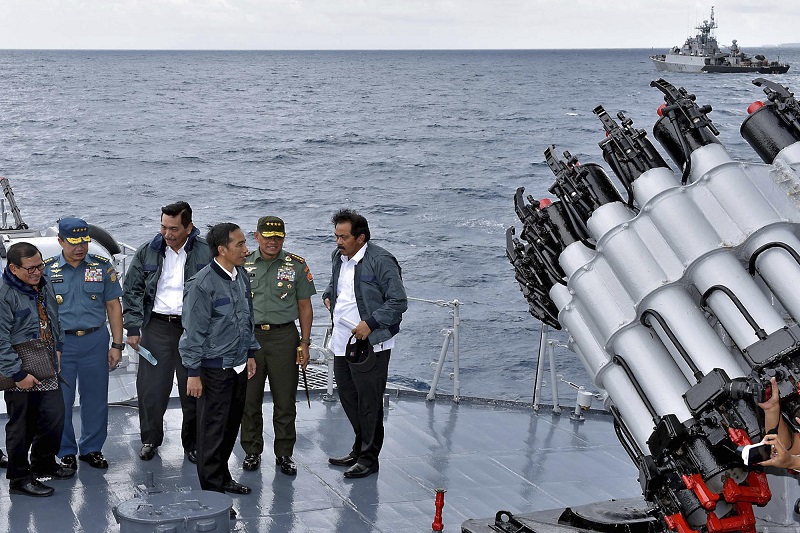 south china sea watch
Indonesia leans to Australia as China reaches South Sulawesi
Indonesia – Indonesian Navy officers have been humiliated after what they claimed were two United States-made side-scanning radar devices discovered floating off South Sulawesi in the early days of February turned out to be tools used by a surveying company in a search for oil and gas.
The Navy officers reportedly came to this conclusion because the five-kilogram cylinders were found near the South Sulawesi island. Reportedly, a suspected Chinese-made underwater drone surfaced in early 2021.
According to Asia Times, days before the discovery was announced, a Chinese warship aimed a military-grade laser beam at a Royal Australian Air Force (RAAF) Boeing P-8A Poseidon patrol aircraft in the Arafura Sea. The lasing was carried out by a Luyang-class guided-missile destroyer. Reportedly, the Chinese military pointed laser beams at foreign military aircraft before.
Consequently, Australian Prime Minister Scott Morrison slammed the Chinese authorities. The Defense Department of Australia said that the incident happened after a pair of Chinese military vessels were encountered in the Makassar Strait on February 11 by a Royal Australian Navy frigate. The department also claimed that the lasing was carried out in the Arafura Sea by a Royal Australian Air Force P-8A on February 12.
Related Posts
According to Asia Times, after sailing through Indonesia's Makassar Strait, the presence of the second small cargo ship had been noticed at the coast of Maluku by the Australian frigate HMAS Arutmin.
According to Defense News, it was on the fourth encounter on February 17, when one of the Chinese ships allegedly used a military-grade laser to illuminate a P-8A. Consequently, the Australian Defense Department slammed the "unprofessional and unsafe military conduct" by the Chinese Defense Ministry.
Reportedly, in December 2019, three Chinese coast guard vessels directed 63 Chinese boats through Indonesia's territorial waters in the South China Sea. Meanwhile, China also views Indonesia as a crucial BRI (Belt and Road Initiative) partner.