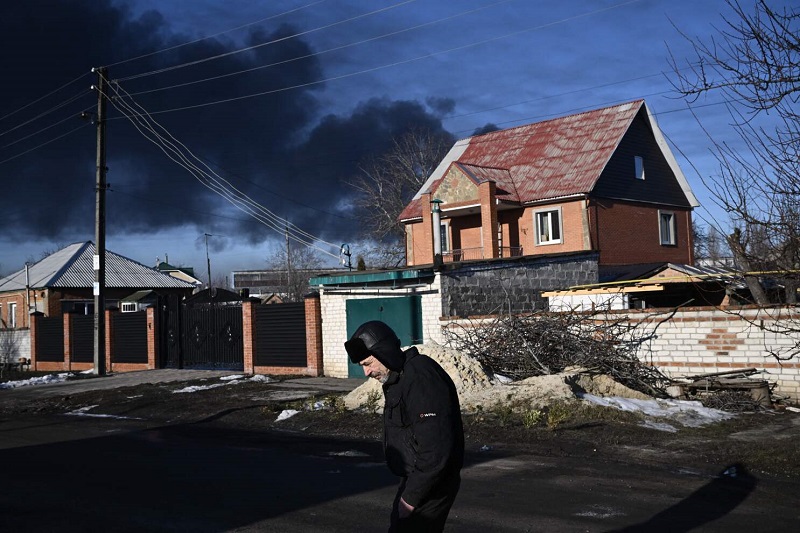 hiding in basements thousands trapped in ukraine as russia attacks
'Hiding in basements': Thousands trapped in Ukraine as Russia attacks
Vladimir Putin's Russia has invaded Ukraine. People stranded have no idea about when they will be able to leave. Ukraine's President has asked Ukrainians to stay in their homes as martial law has been declared. Throughout the country, people have started packing their belongings and are preparing to leave.
People have filled their fuel tanks and got groceries, and are waiting for instructions from the government. It certainly isn't safe to travel.
Residents of Kyiv flocked to the subway stations amid explosions in the city and fears of Russian airstrikes.
Images showed cars in back-to-back traffic heading out of the city. Thousands of cars were waiting at checkpoints to enter Romania, Slovakia, Poland, and Hungary as residents wanted to flee the country.
"The situation on the western border is stable. There is an increase in traffic," said Ukraine's internal affairs ministry.
Related Posts
Many have made sure that the bomb shelter in their apartments has everything that their families would need.
In a call with his Chinese counterpart, Russian President Vladimir Putin said that Moscow was open to "negotiations" with Ukraine. China said it supported a negotiated solution between Ukraine and Russia.
Russia has defended its invasion of Ukraine amid widespread international condemnation.
A Kremlin spokesperson said an offer for talks from Kyiv over a neutral status of Ukraine was a "step in the right direction."
On the other hand, Russian Foreign Minister Sergey Lavrov said the offer of neutrality was a lie.
Peskov said that their country recognized Volodymyr Zelenskyy as the President of Ukraine but refrained into how the two sides would open communication.
Former European Council President berated Hungary, Germany, and Italy for opposing strict sanctions against Moscow at an emergency EU summit this week.
"Everything is real in this war: Putin's madness and cruelty, bombs falling on Kyiv. Your sanctions are pretended."