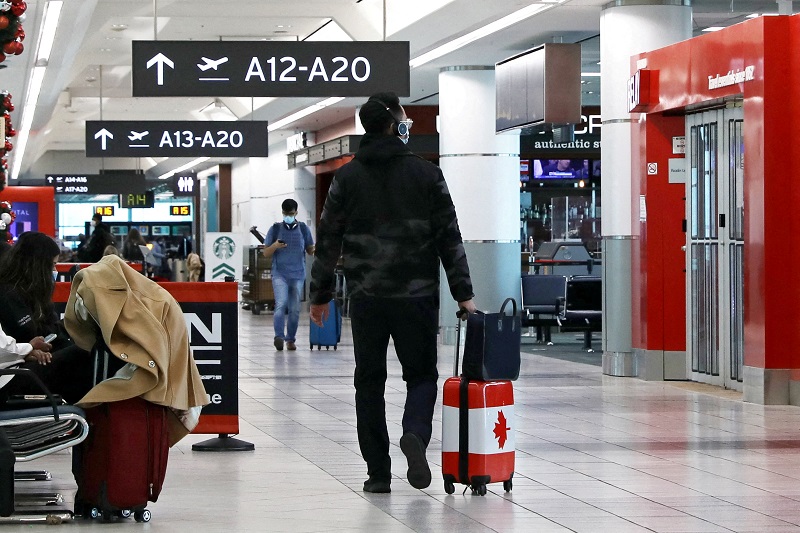 file photo: united states bound passengers walk in toronto pearson airport
US eases COVID-19 restrictions
Last updated on February 28th, 2022 at 04:46 am
The United States Centres for Disease Control and Prevention has eased COVID-19 restrictions across the country.
The move comes as the wave of COVID-19 infections caused by the Omicron variant decreased substantially in the US. States such as New Jersey have announced to lift indoor mask mandates in the coming days.
The move means 72 percent of the country's population will reside in communities where indoor face masks are no longer recommended.
The new masking guidelines shift from a focus on the COVID-19 transmission to hospitalizations, infection"n rates, and hospital capacity.
Under the guidelines before, 95 percent of US counties were experiencing high transmission, leaving just 5 percent abandoning indoor mask requirements.
According to media reports, two years into the pandemic, Americans are tired of wearing masks.
Related Posts
Moreover, studies have shown that infections from the Omicron variant of the coronavirus were less likely to cause hospitalization for the vaccinated ones.
The new policy breaks the country down into three fragments – low, medium, and high risk.
It advises those in medium-risk communities to consult their doctors if they should wear a mask.
It is pertinent to state that travelers will still be asked to wear masks on trains, aircraft, and buses as well as in train stations and airports. Those requirements end on March 18, and the CDC will be revisiting them in the coming weeks.
During a media briefing on Friday, CDC Director Rochelle Walensky said that the US was in a stronger place as a nation with tools to protect its community from COVID-19.
She cited the broader access to testing, the availability of vaccines and boosters, the availability of high-quality masks, and improved ventilation.
"With population immunity, the risk of severe disease is lower," Walensky said.
Experts said the changes made sense as transmission rates in the US were high, but hospitalization rates kept low.