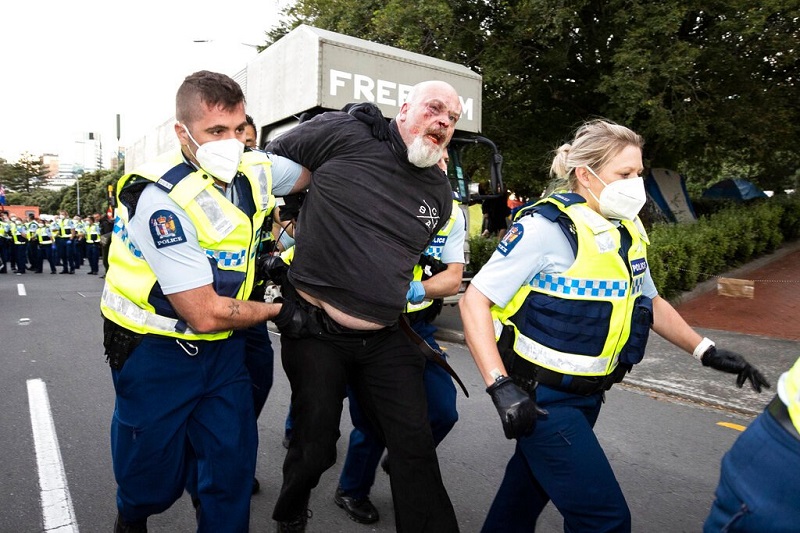 new zealand anti vaccine protesters chase pm ardern outside a school
New Zealand: Anti-vaccine protesters chase PM Ardern outside a school
New Zeland -New Zealand's Prime Minister Jacinda Ardern's van was chased down the driveway while she was visiting Christchurch primary school by a group of protesters raising slogans against the Covid-19 vaccine mandate in the country. The protests against the mandate are gaining momentum after the mandate for the coronavirus vaccine was imposed in the country.
Prime Minister Jacinda Ardern was visiting a primary school in Christchurch when she faced a large group of people who shouted: "shame on you" and "traitor". Few of them could be seen holding signs that read the prime minister would be "put on trial" and "held responsible". Soon police officers formed a barrier around the prime minister to facilitate her quick and safe passage from the area.
Parents and teachers who were present for the event at school were "visibly upset" over the situation, reported Maiki Sherman, TVNZ deputy political editor, who was present for the event.
Related Posts
For over two weeks now, anti-vaccine and anti-vaccine mandate protesters have been occupying parliament grounds in New Zealand. Wellington is facing the implications of rapidly progressing protests as demonstrators have blocked a number of streets in the city's central business district. The earlier peaceful protests have now darkened and now taken a violent turn as many protesters are using this as an opportunity to issue violent threats against politicians, scientists, and also journalists.
PM Ardern's car was chased down last month and forced onto a curb as protesters called her a Nazi and yelled obscenities at her. On asking for her comments, Ardern had said, "At no point was I worried about my safety or the safety of anyone that was with me." She continued, "Every day is faced with new and different experiences in this job … We are in an environment at the moment that does have an intensity to it that is unusual for New Zealand. I do also believe that with time it will pass."