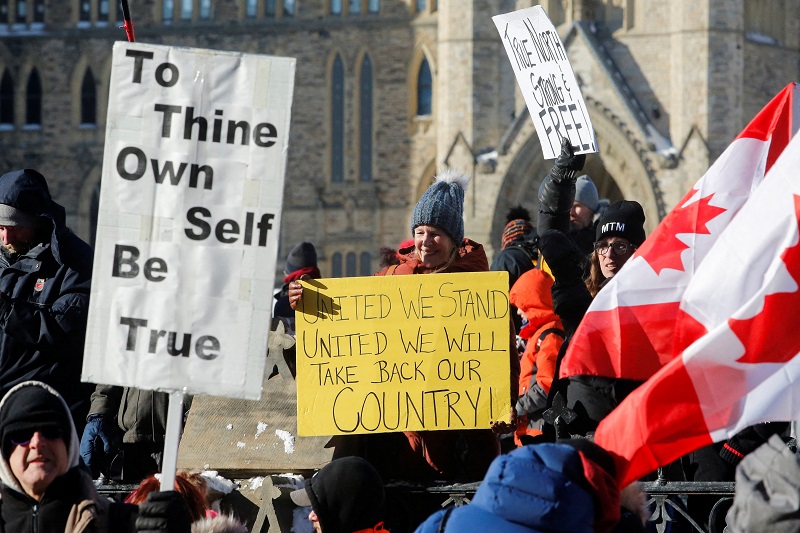 truckers take part in a convoy and protest against covid 19 vaccine mandate in ottawa
Covid-19 threat: Canada sees the protest against Covid-19 measures
Canada -Thousands of people gathered in Canada on Saturday to protest vaccine mandates, masks, and lockdowns. Many people protested in the capital Ottawa against the new COVID-19 measures.
Some people parked on the grounds of the National War Memorial in Ottawa, Ontario. Some people danced on the Tomb of the Unknown Soldier. Many protestors carried signs and flags with swastikas and some used the statue of Canadian hero Terry Fox to display an anti-vaccine statement. They argued that the new Covid-19 rules should not be mandatory.
Gen. Wayne Eyre, Canada's Defense Staff chief wrote on Twitter about the incident. The chief wrote on Twitter, "I am sickened to see protesters dance on the Tomb of the Unknown Soldier and desecrate the National War Memorial. Those involved should hang their heads in shame."
Protestors compare vaccine mandates to fascism
Many protestors compared vaccine mandates to fascism, which is a form of dictatorial power. Reportedly, one truck carried a Confederate flag and many carried expletive-laden signs. The protestors were targeting Canadian Prime Minister Justin Trudeau.
Related Posts
The statue of Fox was draped with an upside-down Canadian flag with a sign that said "mandate freedom." Reportedly, Eric Simmons, from Oshawa, said all vaccine mandates should be ended. Eric said, "Vaccines are not effective, they are not working. It is not changing anything." Eric demanded to repeal the new measures. Eric also criticized the government for making vaccines mandatory for citizens.
The convoy of truckers and others gave threats to the police. The protestors said to prepare for the possibility of violence and warned residents to avoid downtown. The organizers of the protest called for the forceful elimination of all COVID-19 curbs and restrictions.
Reportedly, the country has seen one of the biggest take-ups of COVID vaccination jabs in the world. The premier of the province of Quebec, who is proposing to tax the unvaccinated, is popular in the country.