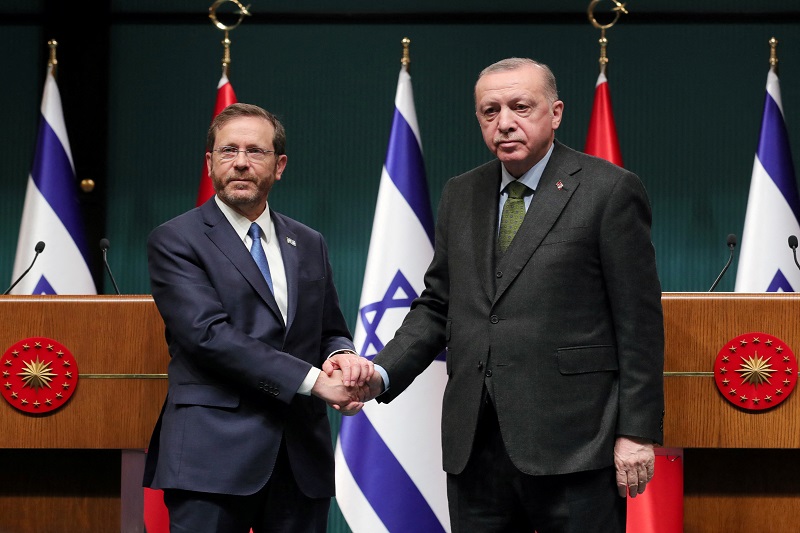 turkish president erdogan and his israeli counterpart herzog shake hands during a joint news conference in ankara
Erdogan Applauds Herzog's Visit To Turkey; All Eyes Set On Israel's Help With East Med Gas
Israel -Turkish President Recep Tayyip Erdogan called Israeli President Isaac Herzog's visit to Turkey a turning point for the country. Herzog travelled to Turkey on Wednesday to mend the relationship between both countries.
However, Erdogan still has to explain to friend and foe whether his overture to Israel represents a fundamental change in Turkey's relationship with Israel. Over the past few weeks, Erdogan has been highlighting the importance of Herzog's visit to Turkey.
The Turkish president invited Herzog to improve their relations. According to Turkish observers, Erdogan could change his mind at any moment if the visit does not yield the desired outcome. Reportedly, Erdogan wanted Israel to transport gas resources to Turkey. They said that Erdogan wants to turn Turkey into a transit point for East Med gas to Europe. However, the observers wonder what the Turkish president could offer Israel in return for this important step in his favour. Observers believe that Turkey might not stop supporting the Hamas group, the militant group that controls the Gaza Strip. Israel labelled Hamas as a terrorist group.
Related Posts
Reportedly, Erdogan told a news conference at the presidential palace, "I believe this historic visit will be a new turning point in Turkey-Israel relations." Erdogan also said that Herzog's visit to Turkey is an opportunity to revive the cooperation on the topic of energy and gas. He further added that the two countries could work together to transport Israeli natural gas to Europe.
Reportedly, after the meeting, the Israeli president told reporters at Ben Gurion Airport heading to Ankara, "We will not agree on everything."
To normalise ties between Turkey and Israel, Erdogan called Herzog by phone in 2022. The two leaders talked on the telephone several times in recent months. Erdogan also spoke to Israeli Prime Minister Naftali Bennett.
Turkey and Israel were once close allies. However, their relationship deteriorated after Erdogan became the president of Turkey. Erdogan criticised Israel's policies toward the Palestinians. On the other hand, Israel slammed Turkey for supporting the Hamas group.