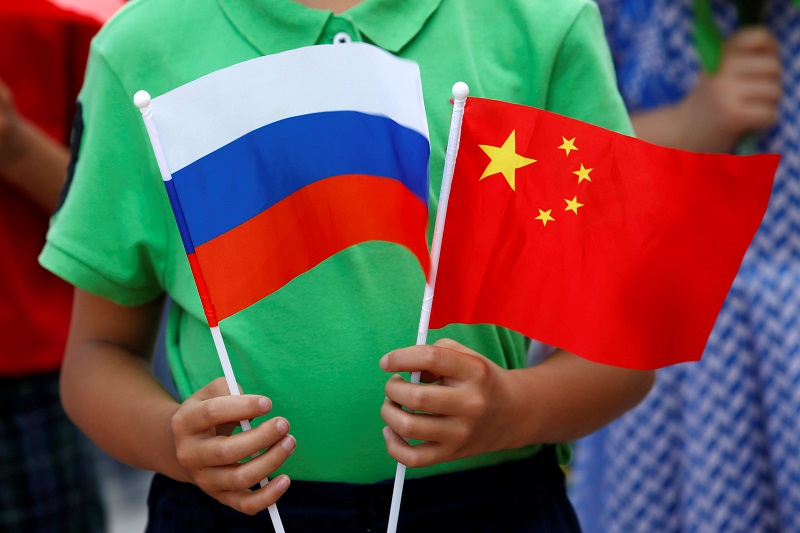 a child holds national flags of russia and china prior to a welcoming ceremony for russian president vladimir putin outside the great hall of the people in beijing
Russia seeks China's help to withstand Western pressures
Russia -On Sunday, Russia announced its banking on China to help it withstand the pressures to its economy due to Western sanctions.
On the other hand, the United States has warned Beijing not to give that lifeline to Moscow.
It is pertinent to mention that Russia's economy has been subjected to heavy sanctions over its invasion of Ukraine.
Russia's Finance Minister said the Western sanctions had deprived the country of access to half of its $640 billion in foreign exchange and gold reserves. Anton Siluanov noted that there was added pressure on China to shut off more.
He said Russia had part of its gold and foreign exchange reserves in yuan, the Chinese currency. "We see that pressure is being exerted on China by Western countries to limit mutual trade. Of course, there is pressure to stop access to those reserves," he said.
Related Posts
Siluanov said Russia's partnership with China would allow the country to maintain the cooperation that has been achieved so far. "Not only maintain, but it would also allow us to increase it in an environment where Western markets are closing."
Siluanov's comments made it clear that Moscow will seek help from China to cushion the impact.
Western countries have imposed sanctions on Russia's corporate and financial system after the latter invaded Ukraine in what it calls a special military operation.
Meanwhile, the US National Security Adviser said Washington was warning Beijing not to lend a helping hand to Moscow.
"We are communicating both directly and privately to Beijing, warning that there would be consequences for large-scale sanctions to Russia to backfill them," Sullivan said.
"We would not allow that to go forward. We can't allow a lifeline to Russia from these economic sanctions from anywhere in the world," added Sullivan.
It merits mentioning that China and Russia have tightened cooperation in recent times after being under strong Western pressure over human rights and other issues.