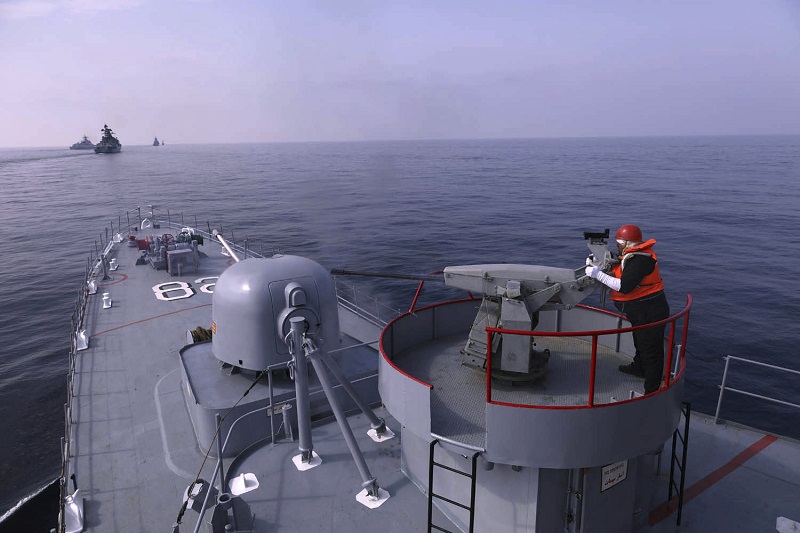 iran russia china joint naval drill
Iran, China and Russia hold naval drills in the north Indian Ocean
Iran, China, and Russia held their third joint naval drills in the northern Indian Ocean intending to boost marine security on Friday. The Iranian Rear Admiral Mostafa Tajoldini, the spokesman for the drills, shared the news to Iran's state TV.
Navies from Iran's armed forces and Revolutionary Guards are taking part in the "2022 Marine Security Belt" exercise over an area of 17,000 square kilometers with smaller ships and helicopters. Reportedly, the floating units from China and Russia are also participating in the exercise.
Tajoldini also announced that tactical drills such as shooting at specific targets, rescuing a floating vessel, releasing a hijacked vessel, shooting at air targets at night, and other operational exercises are among the sections of the naval drills.
Reportedly, the security of international maritime trade, combating piracy, eradicating maritime terrorism, exchanging information in the field of maritime rescue, and exchanging the operational and tactical experiences are among the objectives of the "2022 Maritime Security Belt" exercise.
Related Posts
Reportedly, China, Russia, and Iran started joint naval drills in 2019 in the Indian Ocean and the Sea of Oman area. The officials of the three countries have since maintained the joint naval drills. They said that the drill will continue in the future.
Since coming to office last June, Iran's hardline President Ebrahim Raisi has pursued different policies to deepen ties with China and Russia. Reportedly, Iran has sought to step up military cooperation with Beijing and Moscow amid regional tensions with the United States.
The joint naval drills also come amid ongoing sanctions-removal talks in Vienna aimed at reviving the 2015 nuclear deal between Iran and world powers, including Russia and China.
Over the last few months, representatives from Iran, China, Russia, France, the UK (United Kingdom), and Germany under the EU (European Union) chairmanship held several rounds of discussions on this matter. The talks were aimed at removing US sanctions against Iran and restoring the JCPOA(Joint Comprehensive Plan of Action).