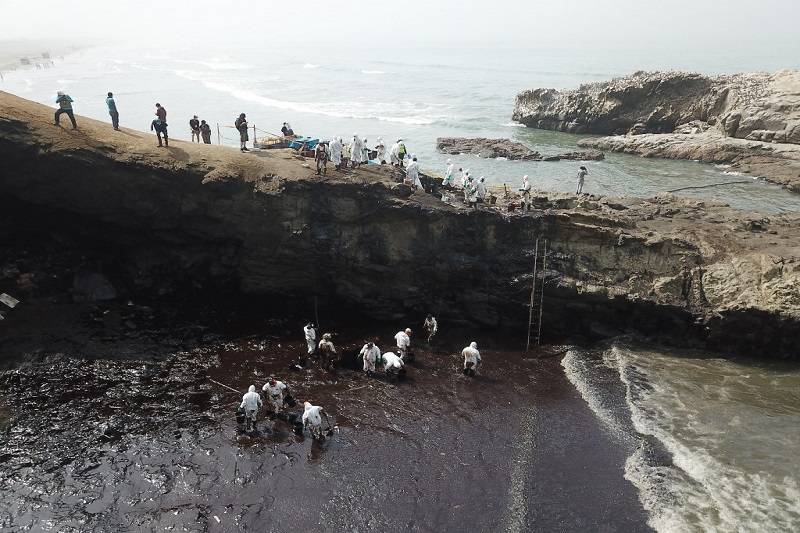 peru tonga volcano tsunami oil spill cleanup
Peru declares 'environmental emergency' after the oil spill
Peru -The government of Peru on Saturday declared a 90-day "environmental emergency" in damaged coastal territories after the La Pampilla refinery leaked over 6,000 barrels of oil. The leak was caused after a tanker was hit by a volcanic explosion.
The oil spill saw 6,000 barrels of crude oil pour into the sea. An oil spill on the Peruvian coast was caused because of the high waves from the volcanic explosion in Tonga. Reportedly, the oil spill had harmed animal and plant life in protected zones over a combined area of some 18,000 square kilometers in the country.
The Peruvian government called the disaster one of the "most important ecological disasters" on the coast in recent years. The Peruvian government also said that a 90-day "environmental emergency" will allow for sustainable management of the affected areas on the coast.
The resolution to adopt the "environmental emergency" was approved by Minister of the Environment, Ruben Ramirez. He heads the Environmental Crisis Committee, which is trying to mitigate the effects of the oil spill.
Related Posts
Reportedly, the refinery did not have a contingency plan for an oil spill. Foreign ministry officials earlier urged operator Repsol, a Spanish oil giant, to pay compensation for the damage caused by the spill.
Repsol said on January 21 that the cleanup of the affected areas by the oil spill will be completed by the end of February. The company said that it had organized more than 1,350 people for the cleanup of the affected areas. Peruvian legal authorities reportedly said that they were investigating the spill as a potential environmental pollution crime.
Tsunami waves were caused by a giant underwater volcanic eruption last week. It hit the Pacific nation of Tonga last week. Videos posted on social media showed large waves washing ashore in coastal areas. Subsequently, the Pacific Tsunami Warning Centre also issued a "tsunami advisory" for nearby countries.