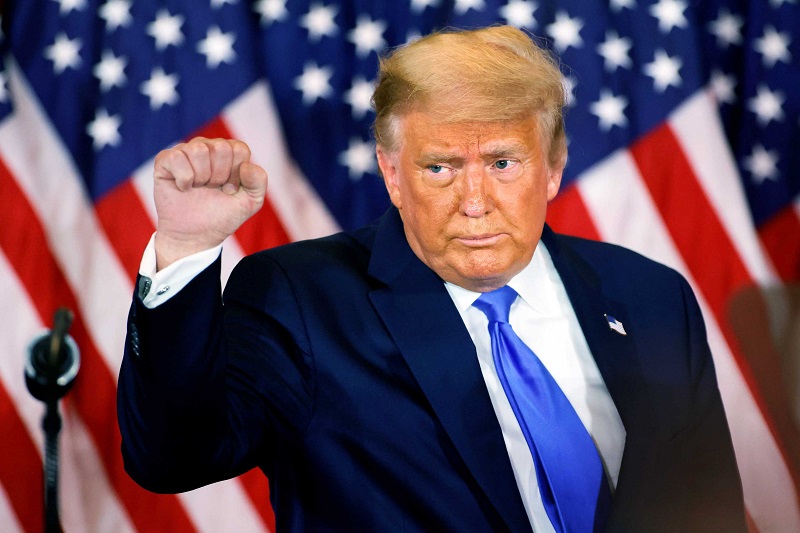 2020 u.s. presidential election in washington d.c.
Trump's social media app begins rollout
Former US President Donald Trump has launched his new social media platform, "Truth Social."
The platform rolled out on Monday, with a further spread planned for this week.
It is pertinent to mention that Donald Trump has been banned from various social media platforms, including Twitter, YouTube, and Facebook.
The ban was followed by the attack on the US Capitol, as he was accused of posting messages that incited violence.
Trump's app was available shortly before midnight in Apple's App Store and was downloaded to Apple Inc devices to users who had pre-ordered.
Some reported having trouble registering for an account. Others said they were added to a waitlist "due to massive demand."
The App Store kept telling users in the United States to pre-order the app before the launch on the Presidents' Day holiday in the US.
After being ousted from various social media platforms in January 2021, the ex-US president took matters into his own hands, announcing that he planned to launch his platform last October.
Related Posts
The app was opened to testers on Friday before the expected launch.
Trump's eldest son shared a screenshot of the website featuring his father promulgating its anticipated release: "Your favourite President is set to see you soon!"
Apple has reportedly begun sending alerts and notifications to users that the app is set for download.
Many users took to Twitter to detail their experiences with the app, with many signifying the app's "massive demand".
The former president's media and technology venture, Trump Media & Technology Group, is behind the development of this app. The group has pledged to deliver a censorship-free and engaging experience on the platform.
TMTG's executive Devin Nunes said that the platform would become completely operational by the end of March.
"That is going to be awesome as we're going to get many more people on the platform," said a former Republican US representative.