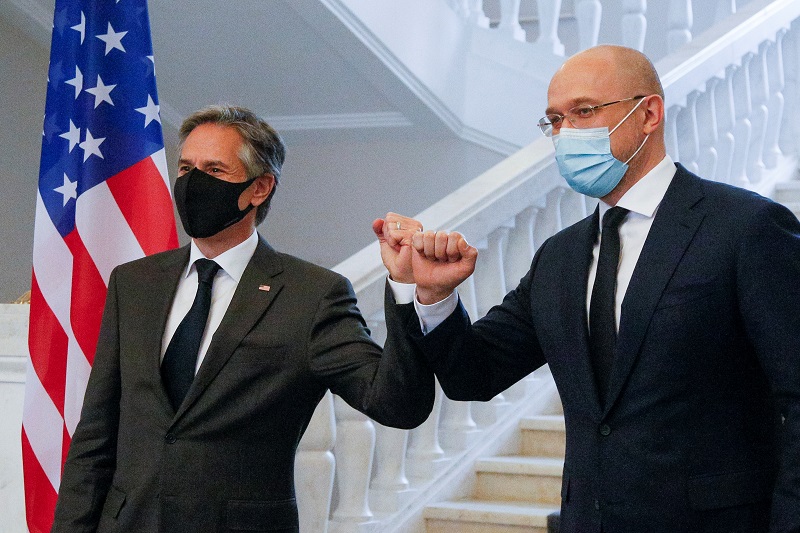 u.s. secretary of state antony blinken meets ukraine's prime minister denis shmygal in kyiv
US Blames Russia For Jamming Ukrainian Cyber Traffic
Ukrain – While the UK and US has accused Russia for disrupting Ukrainian internet services, Kremlin has vehemently denied any wrongdoing. In an attempt to use the Distributed Denial of Service (DDoS) method, Russia has been accused of disrupting and jamming websites of banks and government agencies in Ukraine.
Signs of cyberattack have been ongoing on various Ukrainian official government websites since January. U.S. deputy national security adviser Anne Neuberger told journalists at the White House that Washington was seeking to hold Russia to account for its aggressive moves in cyberspace.
It has also said that it feels Russian intelligence is responsible for the cyberattack to a large extend. The American claims are not without reason. Speaking to the media, they have said that they have data showing that infrastructure connected with Russia's military agency, generally known as the GRU, 'was seen transmitting high volumes of communication to Ukraine-based IP addresses and domains.'
Related Posts
DDoS is a new way to jam websites by firing into them loads of data from multiple IP addresses. Russia has been doing this and affecting the internet abilities of Ukraine.
While Ukraine and US have both held Russia responsible for the cyberattacks and the use of DDos, Russia has also denied any intentions of attacking Ukraine through military force. Tension have been building up on the border with Russian forces sitting on the border. "The attack showed a continued disregard for Ukrainian sovereignty," Britain's Foreign Commonwealth and Development Office (FCDO) said in a statement. "This activity is yet another example of Russia's aggressive acts against Ukraine."